West Virginia is famously known for its outdoor scenery. From the elevated peaks of the Spruce Mountain to the rolling hills of the Mid-Ohio Valley, the 'Mountain State' of the U.S. offers plenty of breathtaking sights and outdoor activities for both tourists and residents alike.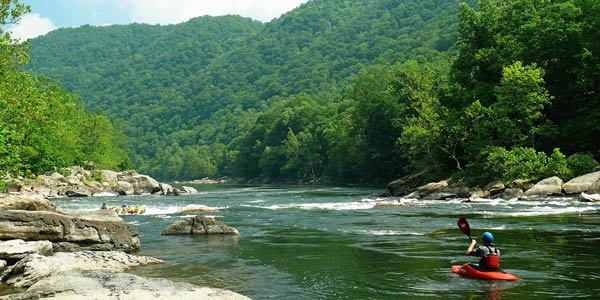 New River, West Virginia
Home to approximately 3,100 cities, towns and small communities*, West Virginia relies on nearly 600 miles of interstate highways for transportation across the State. A number of Rest Areas and Welcome Centers ensure that travelers can take a well-needed break on their journey and take in the views of the mountain scenery.
With so many great hiking spots and outdoor terrain, it's not uncommon for tourists and residents to bring their pets along for the ride. The West Virginia State Division of Highways were therefore in need of some pet waste stations to maintain cleanliness at the interstate highway Rest Areas.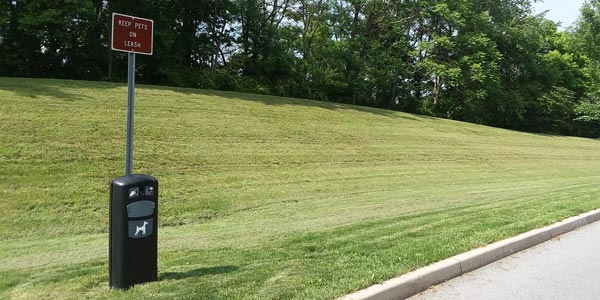 I81 Southbound Welcome Center – Falling Waters, West Virginia
The West Virginia State Division of Highways selected Retriever City™ as the ideal dog waste station to provide a sanitary solution to excess dog poop. With a closed, door-opening aperture and integrated chute system, this pet waste station ensures that any odors are locked in and hygiene levels are maintained. The 9-gallon capacity and built-in dog poo bag dispenser enables pet owners to scoop, bag and trash any waste with ease.
With a variety of Welcome Centers and Rest Areas situated on multiple interstate highways, West Virginia needed co-ordinated containers to integrate with the surroundings at each location.
After Retriever City was identified as the dog waste receptacle of choice, units were supplied in black with gray apertures and pet waste decals, making them easily identifiable for pet owners without detracting from the scenery.
Key features of the Retriever City Pet Waste Stations

Closed aperture with door-opening design
Integrated chute system within pet waste station
Built-in dog poo bag dispenser
9-gallon capacity
Available in black or anthracite gray as standard
Slim design with a small, space-saving footprint
Recognizable pet waste decals
Variety of fixing options available
High-quality construction from Durapol™ material
Dog waste station comes with secure, vandal-resistant locking mechanism
Extremely robust body and door
Dispenser allows only one bag to be taken at a time
Optional dog leash hook available
Find out more
But don't go thinking the Retriever City is the only dog poop station in town. At Glasdon, we also design and manufacture the Fido™ Pet Waste Station.
The classic design of this pet waste station, teamed alongside its versatile fixing options, allow Fido to be at home in a range of different environments. Take a look:
We're happy we could provide West Virginia State Division of Highways with sanitary solutions to combat pet waste at their Rest Areas and Welcome Centers!
For more information on how to choose the right pet waste station for your location, please contact us today!
Source:
*https://transportation.wv.gov/highways/highway_facts/Pages/default.aspx