Here at Glasdon, it's fair to say we're pretty proud of our Fido™ 7 Gallon Pet Waste Station.
With a sleek design, durable construction, and practical functionality –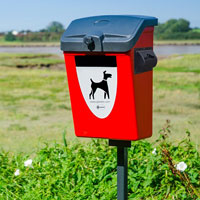 it's all the pet waste station you could ever want...and we're glad it isn't just us that thinks that!
We're delighted to announce that the Fido™ Pet Waste Station has recently made it in at #6 on the Ezvid Wiki list of the best dog waste stations, 2019.*
So, after 27 hours of research, what did their team of researchers have to say about Fido? Take a look below: (Oh and by the way, they obviously looked at the red one, but don't worry if red isn't your thing...it's available in green, too!)
"Nobody can claim they didn't see the disposal bin when it's big and bright red, like the Glasdon Fido. Its molded plastic liner is simple to clean, and its housing is weather-resistant."
We would like to thank the team at Ezvid Wiki for recognizing the Fido™ Pet Waste Station as the all-round unit that it is. If you'd like to know more about this award winning pet waste station (it feels good to say that), here's what else Fido has to offer...
What makes Fido stand out from the crowd?
A versatile and modern design allows Fido to be well suited to a range of locations, including; bark parks, residential apartment buildings, campgrounds, and anywhere else where pets may be permitted!
Large pet waste sticker is easily identifiable to encourage correct waste disposal
Self-returning lid and molded plastic liner, which is removable for cleaning and disinfecting
Robust Duraplus™ construction of Fido's body allow this dog poop bin to be weather-resistant, and offer a long service life
7 gallon capacity means Fido is able to collect significant quantities of waste, in one, compact unit
Post, or wall mounting, fixing options allow Fido to present a small footprint, perfect for areas where space may be limited
If you'd like any more information on the Fido™ Pet Waste Station, or any of our other products, why not: Email us inquiries@glasdon.com | Call us Toll Free on 1-855-874-5273 | LiveChat with us on our website?
Sources:
*https://wiki.ezvid.com/best-dog-waste-stations