In 2022, the United States recorded that 70% of households own at least one pet, equating to 90.5 million homes across the country. Of those households, 69 million owned the most popular choice pet – a dog.* This amounts to a lot of daily walks, and unavoidably, a large amount of animal waste.
When looking for the right pet waste station, there are several key things you should consider in order to ensure you choose the best solution for your environment. We've created this go-to-guide to provide a helping hand when choosing your required dog waste stations.
Key qualities to look for when choosing a dog waste container:
1. Well-designed and hygienic pet waste receptacles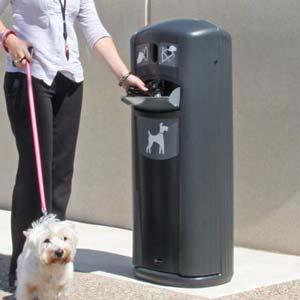 When choosing a pet waste disposal solution, it is essential that the waste container is designed to best store animal waste. A receptacle with a sizeable capacity is key in order to allow plenty of waste to be stored in the unit without the risk of overflowing. This means that the dog poop bin will need to be emptied less frequently, whilst still providing a clean and sanitary solution for the environment.
It is also ideal to choose a pet waste station with a chute system to ensure that the waste finds its way directly into the container. This will help to maintain a high standard of hygiene. A door-opening design or self-returning lid can further enhance the sanitation of the pet waste station by helping to lock in any odors and unwanted smells.
A closed chute-style aperture will also prevent rain water from pooling inside the bin and keep out any vermin or insects, further improving the cleanliness of the bin for both users and operators.
The Retriever City™ Pet Waste Station is a great example of a dog waste container that incorporates both a chute system and a front door-opening design. With a capacity of 9 gallons and a built-in bag dispenser, the Retriever City is the ideal pet waste solution for any location.
2. Robust construction from high-quality materials
When looking for the ideal container for pet waste disposal, the durability of the container is an important factor. A robust construction ensures your chosen pet waste station has a long service-life and can withstand all weather conditions to allow users to adequately clean up after their canine friends, no matter the weather.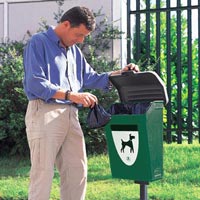 Glasdon dog waste stations are constructed from corrosion and weather resistant materials, such as Durapol™ and Duraplus™ materials. All of our products, including these dog waste containers, undergo rigorous tests to ensure we only supply products of the highest quality.
Durapol material is also resistant to vandalism, meaning little maintenance is required to keep your pet waste stations in tip-top condition.
An internal liner can also improve the quality of your dog poop bin. Our Fido™ Pet Waste Station features a molded polyethylene liner, which can be easily removed for cleaning and disinfecting. This helps to reinforce the cleanliness of the pet waste receptacle when emptying, making it an ideal sanitary solution.
It is also recommended to check that any lids or openings have been designed with a robust hinge to ensure maximum strength and durability for your chosen dog waste container. A vandal-resistant locking system may also be ideal, to further enhance the security and quality of your bin by protecting the pet waste station from unauthorized use, potential vandalism or theft.
Did you know, both our Fido and Retriever City are available through Glasdon Express? - shipped within 48 hours of ordering. See our Express Products for more information.
3. Eye-catching decals and color options
Using recognizable signage and graphics can help approaching dog owners to distinguish between pet waste stations and trash cans.
Our containers for pet waste disposal are supplied with a 'dog waste' logo - a clearly recognizable, canine-friendly graphic to help inspire the correct management of waste.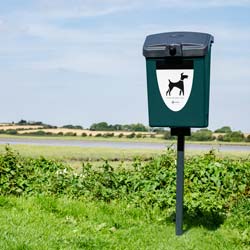 You can also personalize Glasdon dog waste stations with your company or community logo, message or images. To find out more about personalization or to receive a free-of-charge illustration, please contact us.
Choose a dog waste disposal container that will stand out from its surroundings to increase visibility for those looking to deposit their animal waste whilst still maintaining a modern and stylish design.
An eye-catching green or bold red are great color choices for dog waste stations, and are both standard color options for the Fido™ Pet Waste Station. Alternatively, our Retriever City™ Pet Waste Station is supplied as standard in a simple yet effective black or anthracite gray to suit any location, including sidewalks, bark parks and outside apartment complexes.
(Non-standard color options may also be available. For more information please contact us or request a quote)
4. Variety of fixing options
The way your chosen pet waste station is displayed is a key factor when encouraging animal owners to clean up after their pets. The container should be easy to spot, whether it's sited in a park, on the beach or any other dog-friendly location, and should be appropriately fixed according to the available surroundings.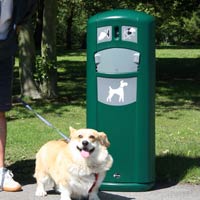 We offer a variety of fixing options to accompany our dog waste stations. These pet waste stations can be post-mounted to an existing post or alternatively, you can attach your chosen dog waste can to a wall.
For areas where these fixing options aren't best suited, the Retriever City™ can be supplied with a variety of ground bolt fixings, allowing your chosen dog waste can to be securely sited in any location.
Alternatively, the Fido™ Pet Waste Station is supplied with wall or post mounting fixings at no additional cost, making it a great choice for your pet waste disposal solution.
5. Extra amenities to supplement your pet waste station
Many states and cities throughout the US have introduced 'pooper scooper' laws stipulating that dog owners must clean up after their animal's waste. Despite this, many people may still take their four-legged friends for a walk without bringing dog poop bags.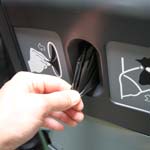 Provide passing dog owners with pet waste stations that feature a bag dispenser, to allow them to scoop, bag and trash their animal's excretions correctly in a dog poop bin.
Our pet waste stations have the option to add a dog poop bag dispenser for increased hygiene and convenience. We can also supply additional dog waste bags to ensure that your dog waste bag dispenser is never running empty.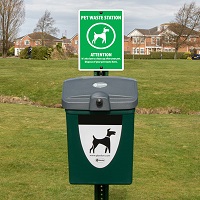 A Pet Waste Station Kit is available for the Fido™ Pet Waste Station, complete with a sign carrier attachment that fixes to the original post and sign carrier board for holding extra signage. Sign can be personalized to your requirements. Request a quote or ask a member of our LiveChat service to find out more.
It may also be useful to opt for containers with the option to add a dog leash hook to the pet waste station. This will allow users to safely keep watch of their canine friends whilst they attend to the dog mess. The Retriever City™ Pet Waste Station can be fitted with an optional dog leash hook to accommodate your needs as required.
Once you have your chosen pet waste management solutions, don't forget to install them at regular intervals in high-traffic, dog-friendly areas to get the best use out of your selected dog waste stations.
For more information on the pet waste stations we offer, please browse our website or contact us today!
Email us at inquiries@glasdon.com
LiveChat with us on our website
Sources:
*https://petkeen.com/how-many-dogs-are-there-statistics/
Originally posted: March 17, 2018
Last updated: August 19, 2022