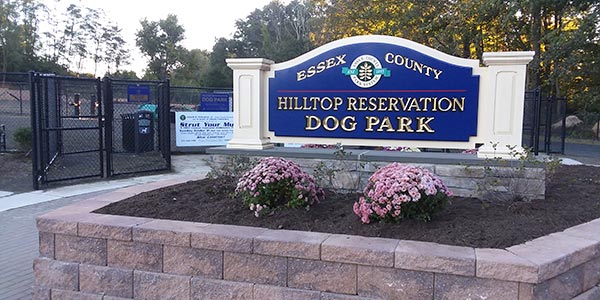 When Essex County Hilltop Reservation installed the Retriever City™ Pet Waste Station, they certainly weren't barking up the wrong tree.
Back in the fall of 2017, officials from North Caldwell listened to requests for a brand new Off-Leash Dog Facility. This summer, it became a reality...and we are super proud that Glasdon could provide their dog waste station of choice.
Essex County's 240 acre Hilltop Reservation spans the borders of Cedar Grove, Verona, and the Caldwells.
The facility is divided into separate areas for large and small dogs, with an impressive 35,000 square feet in which doggies can delve. And, with a host of exciting apparatus on which your pooch can play, as well as a selection of nearby, scenic walking routes, the facility, along with its new dog poop stations, has proved to be a great addition to the local area.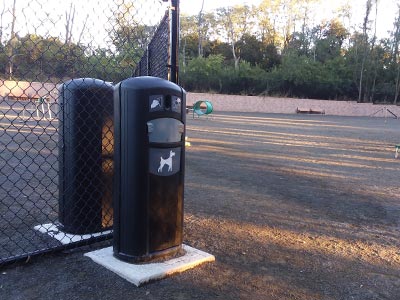 Zenith Construction undertook the building work of the facility, whilst Remington and Vernick were awarded the professional services contract to design the dog park. Work began in early April, and was complete in less than three months, making this pooch playground the fourth in Essex County Park's system.
One prevalent issue which remained, however, was how to appropriately dispose of dog waste produced in, and around, the facility. And there's no denying the value of high-quality dog poop stations, especially when we consider the serious health and environmental implications which can arise from abandoned doggy-doo...
Dog waste is actually toxic to grass, known to cause burns and unsightly discoloring. Beyond the grass, however, it gets worse. Estimates have shown that a single gram of dog waste can contain 23 million fecal coliform bacteria, which are known to cause cramps, diarrhea, intestinal illness, and serious kidney disorders in humans.*
So, identifying the most appropriate form of dog waste receptacle a facility like Essex County Hilltop Reservation is a significant responsibility. Fortunately, at Glasdon, our pet waste solutions are never far-fetched.
Retriever City proved to be the perfect dog waste station for Essex County Hilltop Reservation, as its contemporary styling makes the unit ideal for dog parks, as well as surrounding urban areas.
This pet waste solution doesn't just look good, though. The Retriever City Pet Waste Station also offers an integrated bag dispenser, and chute dispenser, all within the same unit, so you'll never need to worry about leaving your poop bags at home again!
Check out some further features of the Retriever City Pet Waste Station:
Extremely robust body and door, made from Durapol®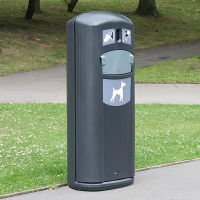 Integral dispenser allows only one bag to be taken at a time
Secure, tamper resistant chute system
Secure, vandal resistant locking mechanism
Door-opening design provides easy access to dog waste stationfor removal and replacement of bags
Space saving narrow footprint
Clear graphics, encouraging correct usage
Holding capacity of 9 gallons
Standard colors: black (produced using recycled material), Anthracite Gray
Non-standard colors: red, deep green
For more information on the Retriever City Pet Waste Station, or any of our other dog waste receptacles, contact us today, alternatively, take advantage of our free live chat!
Sources:

*http://www.doodycalls.com/resources-toxic-dog-waste/