Across the United States, there are 59 protected National Parks and a further 10,336 state parks. Last year, over 791 million people visited state parks in America.
No matter what reason visitors choose to visit one of the many beautiful parks in the US, we want to help you to encourage them to preserve its natural beauty by keeping it a clean and safe place for others.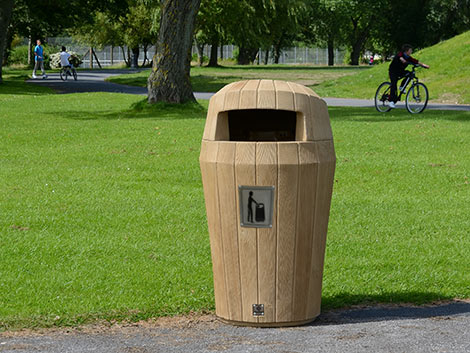 The popular Sherwood Trash Can with Hooded Top is perfect for green areas!
Leave No Trace
As the number of visitors to state parks increases, trash is becoming a larger problem. Littering can negatively impact the environment and if it ends up in the water streams it can also pollute drinking water supplies. Leaving your trash behind will negatively affect the environmental aesthetics of the park and the experience for other visitors.
The national program Leave No Trace promotes the protection of our nation's wildlife through its seven principles, including disposing on trash responsibly.
Our Sherwood™ trash can is perfect for national and state parks. Manufactured from Everwood™ material, Sherwood is strong, weather resistant and requires minimal maintenance.
Go on Foot
Preserve the beauty of the parks by going on foot where possible. A rising number of tourists visiting by car means increased deterioration for the park. Some parks now offer a shuttle bus system, which is a great way to reduce your ecological footprint and help protect the environment!
Encourage visitors to swap their tyres for hiking boots or research more comprehensive transportation solutions to try to combat the growing number of cars.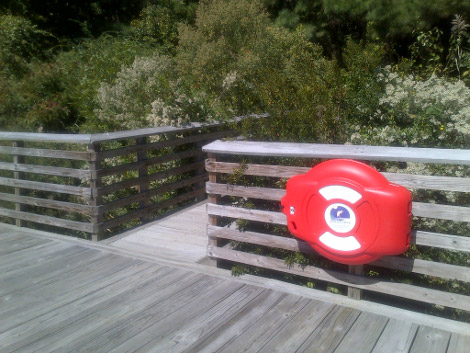 Customized Guardian Life Ring Cabinet at Hoffler Creek Wildlife Reserve
Water Safety
State parks are popular areas for water-enthusiasts, whether that's swimmers, fisherman, extreme water-sport lovers or people just wanting to cool off on a hot summer day! Bearing this in mind, it's important to keep park users safe whilst on the waters. Having water safety rules in place and lifeguards on duty can help minimize potential dangers associated with water recreation.
Constant exposure to the elements can cause deterioration of vital life saving equipment such as lifebuoys. Our Guardian™ 30 Life Ring Holder is manufactured from corrosion resistant Durapol material to help protect water safety equipment. The Guardian 30 Life Ring Holder has many many innovative features, designed with water safety in mind, and is also available as a 24" model.
A variety of siting options are available for our life ring cabinets and they can even be installed at intervals of 164 feet to meet ILO safety standards or at intervals of 200 feet to meet OSHA regulations.
Educate Visitors
Many people travel to national parks for educational reasons. National parks are often visited by class trips to encourage our future generations to learn all about history, nature and the world around them.
Most of our trash cans and recycling containers can also be customized with your own motivational message, branding or map. This is a great way to inspire visitors to dispose of trash responsibly and take care of the environment around them.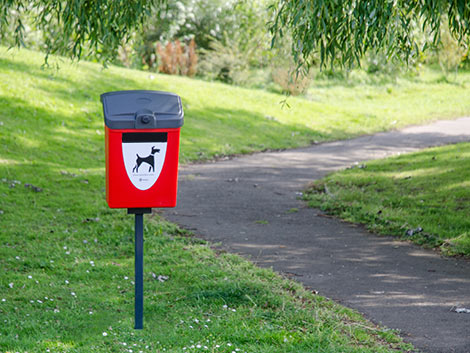 Our Fido™ pet waste station is is ideal for all outdoor areas
Pets in Parks
Many visitors will choose to bring their furry-friends when they visit state parks. If a lot of visitors with pets frequent your state park, it might be beneficial to install an adequate amount of pet waste stations throughout the park or near to pet-friendly trails. These will encourage visitors to clean up after their pets and make use of the dog poop stations provided.
The Fido™ pet waste station features a self-returning lid and removable plastic liner for easy cleaning, making it a hygienic and secure unit. An easy-to-use bag dispenser is also available to attach to the side of the dog waste station.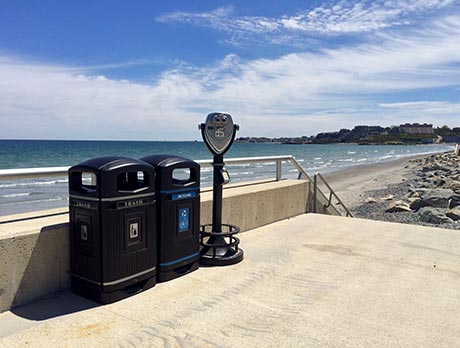 Glasdon Jubilee 29G recycling and trash containers are keeping Nantasket Beach beautiful
Refill, Reuse, Recycle
The Grand Canyon National Park's Environmental Specialist found that disposable plastic bottles comprised approximately 20% of the Grand Canyon's waste stream. Implementing designated water fountains and water bottle filling stations in high traffic areas will make it easier for visitors to refill their water bottles.
However, it's highly likely that some people will still bring disposable containers when visiting parks. To eliminate the risk of these ending up in the waste steam or being littered along trails, we recommend placing recycling containers in high footfall and convenient areas.
We offer a wide range of external recycling containers, which can be used to collect mixed recyclables or specific recycling streams to suit your needs.
To find out more about our products for open spaces – speak to one of our advisors on LiveChat or contact us today!