The Dignity Memorial network is the largest provider of funeral and cemetery services in North America. Caring for thousands of families each year, Dignity Memorial always go the extra step to ensure that they fulfil their mission statement of 'Celebrating Each Life Like No Other'.
Maintaining a welcoming, clean and well-kept environment is a necessity for Dignity Memorial, to preserve the peacefulness and tranquility of their cemeteries and memorial parks.
From modern to traditional styling, we supply a wide variety of outdoor trash receptacles which can be adapted to suit any environment. We're proud that Dignity Memorial were able to find the right solution to manage waste within their memorial parks by selecting our Canyon™ Trash Cans.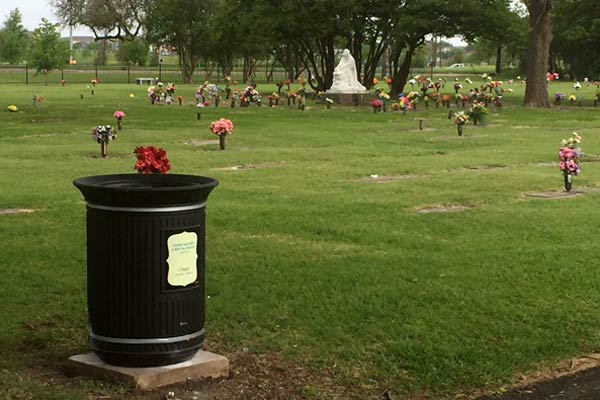 The classically designed Canyon Trash Can is the perfect solution to large volumes of waste in open, outdoor spaces. Rather than becoming a focal point, the Canyon is able to integrate well with its surroundings whilst still maintaining visibility for users, thereby enhancing the location as opposed to detracting from it.
The large, open top aperture makes waste disposal easy and encourages use, to help keep the surrounding environment clean and trash-free.
The Canyon Trash Can comes in black as stnadard, and features recessed areas for decorative banding in either gold or silver. 'Trash' legends can also be supplied with the receptacle, in order to complete the two large sticker panels featured on either side of the container. Alternatively, we offer the opportunity to add a personal touch, by creating customized designs through our personalization service.
Dignity Memorial selected the option of personalized decals for their Canyon Trash Cans and provided us with the required artwork as well as their design specifications. Our visualization service team were more than happy to provide computer-aided renders, showing how each trash receptacle would look with the custom graphics. This enabled Dignity Memorial to make sure that they were completely happy with their order prior to purchasing.
The Canyon Trash Can is made from weather and corrosion resistant Durapol™ material, and is fully recyclable at the end of its long service life, helping contribute to a more sustainable future further down the road.
We're pleased to have been able to help Dignity Memorial find the right trash solution to preserve the peacefulness and tranquility of their memorial parks.
Find out more about the Canyon Trash Can
For more information on the range of outdoor trash receptacles that we offer, please feel free to download our product guide brochure or contact us today!
Email us inquiries@glasdon.com | Call us Toll Free on 1-855-874-5273 | LiveChat with us on our website
Wednesday, November 28, 2018