With over 1,000 luxury rooms, a 400-foot lazy river and a wide range of amenities, it's no surprise that Harrah's Resort Southern California were voted the "Best San Diego Hotel" in the Los Angeles Magazine 2016 Reader's Poll.
Harrah's Resort in Southern California keep sustainability close to the heart. Whilst guests are relaxing, playing and splashing around at Harrah's Resort, they're working hard to make a splash in sustainability. Harrah's Resort constantly strive to create a positive environment in Southern California and that's why our Nexus® 52G was the ideal recycling container to meet their needs.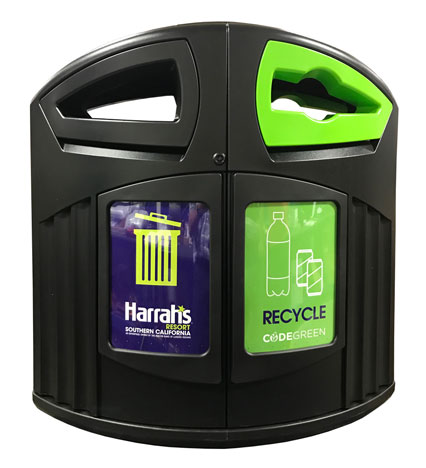 Our personalized Nexus 52G ready to go to Harrah's Resort SoCal
Through their CodeGreen program, Harrah's Resort Southern California are minimizing their environmental footprint by consistently setting and meeting eco-friendly goals. In 2015, they diverted 468 tons of recyclable materials from landfill. That's an impressive increase of 10.5% in their recycling rates year over year! This year they're planning to divert 500 tons of waste from landfill.
We are proud to be helping the award-winning Harrah's Resort SoCal reach their recycling goals and minimize their ecological footprint with our Nexus 52G.
Harrah's Resort SoCal personalized our Nexus 52G with their own branding and recycling graphics. The apertures of our Nexus 52G have been customized to co-ordinate with the bright colors of Harrah's Resort SoCal. These personalizations should help to encourage visitors to correctly dispose of their waste.
For more information on our recycling containers, please get in touch. Call us toll free 1-855-874-5273 or speak to us on LiveChat today.