Environmental sustainability is an ever-growing concern in the minds of consumers.
Globally, 91% of customers expect companies to responsibly address social and environmental issues*, so adopting these values could help to increase your organization's appeal.
With this in mind, more and more large corporations are setting recycling and waste diversion targets for the future.
Discover how we are helping Coca Cola reach their sustainability goals across bottling sites in the U.S. with the introduction of personalized trash receptacles and recycling containers:
What They Do: Operating as a co-ordinated but local and independent system, bottling plants at Coca Cola are in charge of manufacturing, packaging and distributing the final branded beverages to retailers and vending partners before being sold on to consumers.

Their Aim: To increase recycling across their network of bottling partners, in line with Coca Cola's 'World Without Waste' campaign target to collect and recycle the equivalent of every bottle or can sold by 2030**.

Our Solution: Glasdon recycling containers and trash cans personalized with Coca Cola branding, logos and custom decals

C-Thru™ 48G Recycling Bins
To help Coca Cola collect and recycle any plastic bottles, glass bottles and aluminum cans on their premises, these bottlers were in need of indoor recycling containers with dedicated apertures and co-ordinated decals.
Our C-Thru™ 48G recycling bins proved to be the ideal solution.
Two round apertures for bottle collection help to encourage users to deposit their waste into the container. The transparent exterior of these bins allows the contents to be seen, to minimize cross-contamination levels between different waste streams.
Our products can be adapted and personalized to suit any recycling requirements. These Coca Cola bottlers decided to brand their commercial recycling containers with their company logo and colors, to encourage employees and visitors to help the global company with their sustainable packaging goals.
Coca Cola reinforced this message by also adding custom decals with their widely cited sustainability slogan, 'give it back', to further inspire others to get involved.
Nexus® 52G Dual Recycling Containers
To improve external waste management at their bottling plants, Coca Cola needed large commercial recycling containers and trash cans for outdoor use. With two separate compartments for waste collection and segregation, the Nexus 52G Dual Recycling Containers were the perfect choice.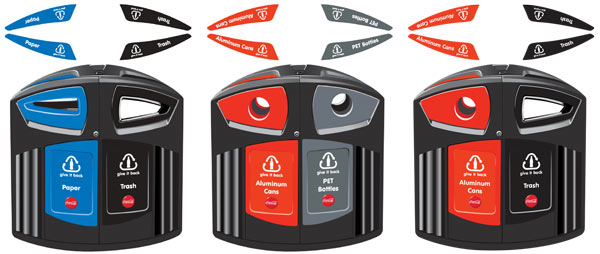 Featuring a slim, elliptical design with a narrow footprint, the Nexus 52G containers are ideal for busy areas where space may be limited. Four large, waste stream dedicated apertures encourage trash disposal, helping to minimize cross-contamination and decrease littering.
Coca Cola used our personalization service to their advantage, by creating custom decals and adding their company branding to the recycling containers. Using their 'give it back' slogan with custom recycling graphics, Coca Cola were able to adapt their containers to their business, to encourage employees and visitors to recycle and help them create a 'World Without Waste'. Bold, eye-catching colors increase visibility of the containers to further inspire correct waste disposal.
Glasdon Jubilee™ 29G Range
To accompany their Nexus 52G recycling containers, Coca Cola also selected containers from our Glasdon Jubilee 29G Range to provide a waste outlet for their premises. These traditionally styled commercial grade trash and recycling containers feature a domed hood with four large apertures for ease of access for the user.

Large decals on the Glasdon Jubilee 29G containers ensure that users can clearly see the waste stream being collected. Coca Cola used these decals to display their world-wide recognized logo to reinforce brand recognition and integrate the containers with the bottling plant.
Although bottles and cans may be the focal point of their waste management goals, Coca Cola also wanted to ensure they had enough solutions to combat all types of waste on their premises. With outdoor recycling containers for trash, aluminum cans, PET bottles and compost, this international company were able to provide multi stream facilities for their employees and visitors.
We were glad to be able to provide Coca Cola and their network of bottlers with customized trash and recycling solutions to help them on the road to achieving a 'World Without Waste'.
For more information on how you can customize your Glasdon products to suit your company or organization, view our 5 Step Personalization Guide or contact us today!
Email us at inquiries@glasdon.com | Call us on 1-855-874-5273 | LiveChat with us on our website!
Sources:
*http://www.conecomm.com/research-blog/2015-cone-communications-ebiquity-global-csr-study
**https://www.coca-colacompany.com/stories/world-without-waste