Kellogg, the company which has brought us Corn Flakes, Pop-Tarts, Eggo Waffle's and more, have been in the breakfast business for over 100 years. With the aim of developing 'quality products for a healthier world' at the heart of their goals, the Kellogg Company is renowned for their delicious, nutritious foods and has long since reached global heights.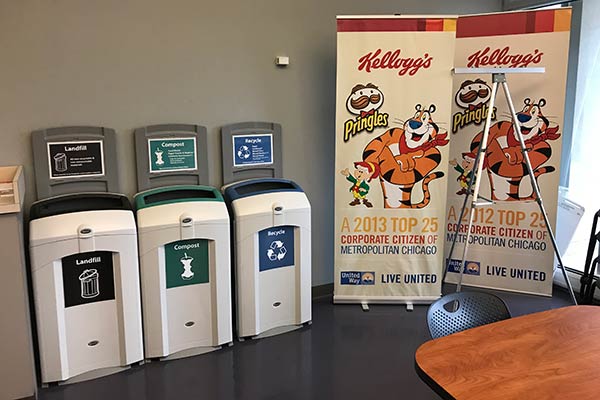 Every day, Kellogg makes great strides towards sustainability. Almost all Kellogg's cereal boxes are crafted from 100% recycled material, all of which can be successfully recycled by following the How2Recycle labels on each box. You can find out more about how to understand these labels with our How2Recycle Recycling Labels Guide.
With goals in place to help reduce emissions, water and energy use, as well as hosting eco-events sponsored by their 'GoGreen' Team, Kellogg's are constantly looking to minimize their environmental impact and zero in on waste. To help them achieve their goals and become cereal recyclers, Kellogg needed dedicated recycling containers to situate within their offices – and Glasdon provided the solution.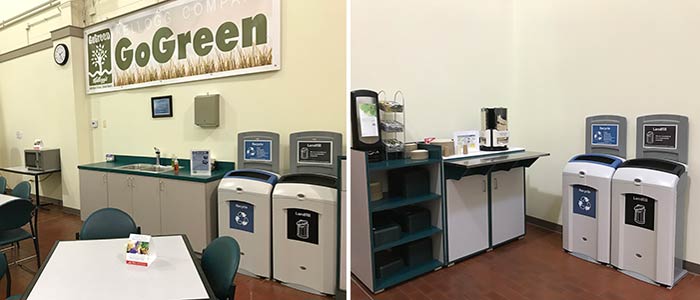 Kellogg selected a mixture between the Nexus® 26G Recycling Containers, and the Nexus® 13G Recycling Bins as their ideal choices for waste collection.
The Nexus 26G range of recycling containers feature a modern, aesthetic design with a narrow footprint, to be easily sited back-to-back, against walls or side-by-side to form a recycling station. Smooth surfaces and a removable door ensure that these containers can be easily cleaned and emptied with minimal difficulty for the operator.
Each of the Nexus 26G Recycling Containers boast a large 26-gallon capacity. Color co-ordinated aperture panels and decals encourage correct use to minimize cross-contamination and sufficiently segregate waste.
Kellogg's used our personalization service to create custom decals, signage and colored panels to best cater to the different waste produced within their workplace. With customized containers for landfill waste, recyclable waste (including paper, cardboard, rinsed glass, rinsed metal and rinsed plastics #1 – #7) and compost, Kellogg were able to ensure that no waste would go unaccounted, with recycling levels maximized wherever possible.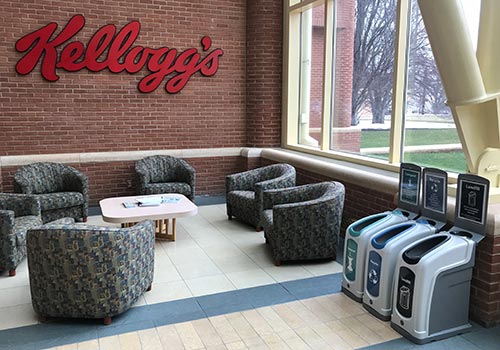 Similarly to the Nexus 26G bins, the Nexus 13G Recycling Containers utilize contemporary styling with a slim, narrow design. The 13-gallon capacity ensures sufficient volumes of waste can be collected with ease within lobbies, corridors and small offices to help optimize waste management within the workplace.
Kellogg sited their recycling containers neatly in a row to combat multiple types of waste in one recycling station. Using consistent waste stream colors and decals across the premises enables employees and visitors to easily recognize which waste stream is intended for which container, to help them correctly dispose of their trash.
Kellogg also selected to add a sign kit to the majority of their containers to explain further which waste is accepted. All Glasdon indoor recycling containers are available with personalized sign kit options and decals, which can be easily previewed and altered using our free visualization service – simply contact us to discuss your requirements further.
Nexus 13G Recycling Range
Nexus 26G Recycling Range
Combat waste within lobbies, hallways, small offices and copy rooms with minimal space required. Dedicated apertures ensure correct waste stream segregation.
Ideal for any indoor environment where large volumes of waste are to be collected. Personalize your decals and add custom sign kits to encourage use and increase recycling.
We are pleased we could help The Kellogg's Company select the right indoor recycling containers to combat waste within their corporate buildings. For help choosing the right trash receptacles for your location, or guidance on how you can encourage your employees to recycle, LiveChat with us today!