The City of El Monte, California is a residential and industrial city located east of Los Angeles in the San Gabriel Valley. With a population of around 120,000, El Monte is the ninth largest city in Los Angeles County.
Known as the hub of the San Gabriel Valley, El Monte is ever-growing through new businesses and public improvements. With their 'business-friendly attitude' and international corporations, this city is a popular area for both commercial and retail businesses alike.
The state of California is currently one of 10 U.S. states to have implemented a container deposit law, commonly known as a Bottle Bill. This regulation involves including a small deposit within the price of any beverage sold in a single-use container, the amount of which is refunded when or if the container is returned for recycling. The aim is to encourage recycling and reduce littering when it comes to single-use beverage containers.
Find out more about the Bottle Bill and its benefits, here.
To help improve their container collecting facilities and increase recycling rates, the City of El Monte selected our versatile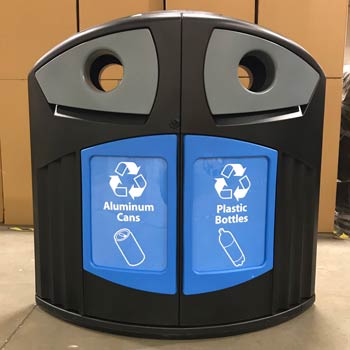 Nexus® 52G dual recycling containers.
The Nexus 52G recycling containers feature a slim, elliptical shape with a narrow footprint, making them the ideal recycling solution in busy outdoor environments and public spaces. With four large apertures and two separate internal liners for waste segregation, these outdoor recycling bins are designed to collect multiple waste streams whilst minimizing the risk of cross-contamination.
To encourage residents to deposit their single-use beverage containers, the City of El Monte adapted their recycling containers for the collection of aluminum cans and plastic bottles.
Alternatively, the Nexus 52G recycling bins can be personalized for the collection of any desired waste streams. Please contact us for more information.
The City of El Monte required recycling containers with lockable doors to prevent unauthorized access. Complete with a twin-door opening system and 3-point interlocking slam shut doors, the Nexus 52G recycling containers were the perfect choice to fulfil these specifications.

Four large apertures for waste disposal
Large 52-gallon capacity
Multi-stream recycling solution in one space-saving unit
Color-coded aperture panels and recognizable decals
3-point interlocking twin-doors
Slim, elliptical shape with a narrow footprint
Ideal for busy outdoor areas
Made from weather and vandal resistant Durapol™
Internal liners minimize the risk of cross-contamination
Available to adapt for the collection of your chosen waste streams
Find out more
For more information on the combo recycling bins and stations that we offer, please feel free to browse our website or contact us today!
Email usinquiries@glasdon.com | Call us Toll Free on 1-855-874-5273 | LiveChat with us on our website