380 Organizations have signed the 'America Recycles Pledge' as of July 21.*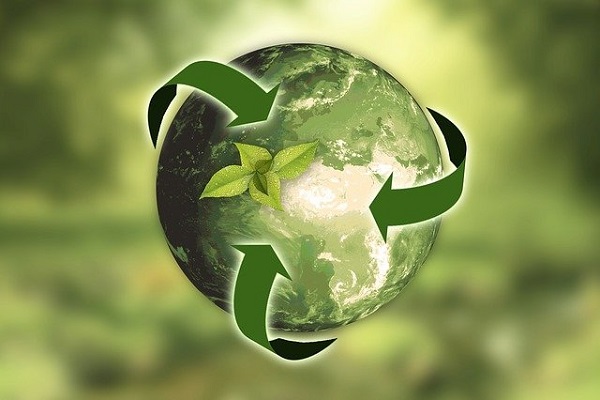 Recycling, at any level, household or commercial, has a positive impact on the environment. Responsible for saving energy, protecting the environment, and conserving natural resources, recycling is key to achieving a greener future and a healthier Earth.
In support of recycling week, we explore what's new in recycling, common waste types collected by our customers, and how they are implementing clever ideas, through personalization, to create successful recycling programs.*
What's New?
The recycling landscape in the US is ever-changing as society becomes more environmentally conscious, and new processes and facilities allow for a wider variety of recyclable materials.

PET Plastics
Despite the PET recycling rate standing at 27.9%, the US has witnessed a rise in the demand for plastic bottle recycling and an increase in companies attempting to convert to PET plastics.*
In a bid to reduce its use of plastic by 20%, Coca-Cola has released a new 100% recycled PET bottle. In addition, to encourage recycling, the brand will include "Recycle Me Again" labels on the drinks and will also include educational messaging.*
Sustainable Packaging
Following in Coca-Cola's footsteps, Burger King, in partnership with Loop, is extending its eco-friendly pilot scheme to New York and Portland. Investing in sustainable packaging, the brand is testing the use of reusable packaging in certain stores. Customers can return the packaging to the Loop machine instore to be safely cleaned before being reused for the next customer.*
Aluminum Cans
GEL Recycling in Port Orange receives funding to install additional can capture equipment to its recycling facility.

The move, which will result in an estimated increase of 3.5 million more recycled cans, will generate enough energy savings to power approximately 1.4 million homes.*
Paper and Paperboard Remain a Top Item for Commercial Collection
As it accounts for over 65% of the total recycled material, paper and paperboard remain a popular recycling stream in the US.*
Frequently and easily collected by waste management companies, recycling paper and paperboard is environmentally beneficial and lessens the need to chop down trees.
Common Waste Types and Clever Ideas for Recycling Program Success
Recycling can be single or multi-stream, depending on the recycling infrastructure available in the area and the company's recycling needs. Adapting and personalizing products to meet their individual recycling needs, many of our customers create innovative and clever solutions for recycling streams.
E-waste and Batteries
As the digital age continues to expand, e-waste is rapidly becoming the fastest-growing waste stream globally.* Alongside batteries, e-waste can potentially cause harm if incorrectly disposed of as it harbors toxic materials and corrodes, causing fires in the recycling plants - as witnessed in Texas in 2016.* To solve this issue and provide a more sustainable alternative to e-waste and batteries, many of our customers have chosen to house individual electronic and battery waste streams for their employees and customers.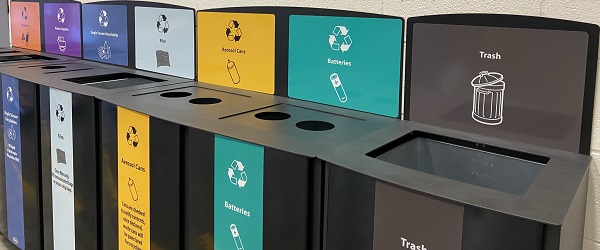 Featuring three Nexus® Style 48G Recycling Stations and one Nexus Style 24G Recycling Container, the receptacles allow Chevron Phillips Chemical to conveniently and efficiently collect multiple waste streams: electronics, printer supplies, single-stream recyclables, film, aerosol cans, batteries, and trash.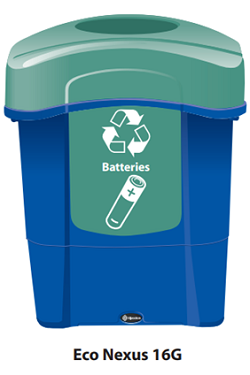 Founded in 2000, Chevron Phillips Chemical utilized the customizable quality of the Nexus Style range to create an eye-catching waste system with instructions and guidance on how to effectively action recycling needs and clear signage for individual streams to minimize errors.
SBS Waste installed a similar feature to their Eco Nexus Recycling Container, adding a battery waste stream alongside a stream for bulbs.
Other customers, with a lesser requirement for e-waste and battery recycling or less space available to house containers, often opt for an alternative solution and tend to find their answer in the C-Thru™ 10Q Battery Recycling Tube.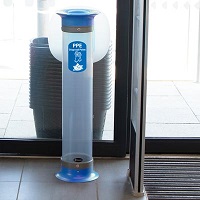 Since the pandemic, an innovative adaption of these bins is to function as PPE waste containers - Transparent C-Thru 15Q PPE Waste Can.
Coffee Cups and Cup Residue
With the paper cup market hitting sixty-three billion units in 2018, coffee cup recycling is a frequently sought waste stream.*
When purchasing the Eco Nexus Cup Recycling Station, SF Bay Coffee personalized the product to collect food waste, lids, cups, and the remnants of drinks in one unit.
Creating a multi-stream system, the side pods minimize cross-contamination by providing a facility to empty liquid prior to disposal while also offering other streams.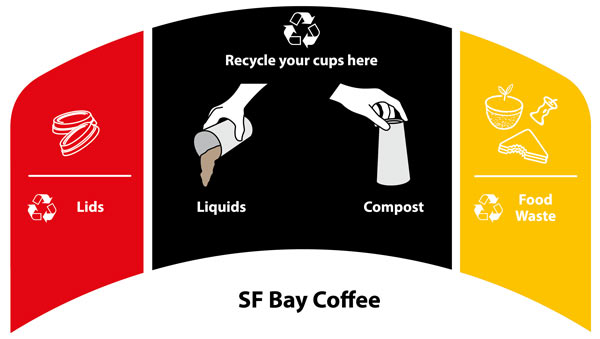 As contaminated recycling can be hard to process, the side pods reduce waste disposal costs and prevent waste from needlessly ending up in a landfill.
Unique Waste Requirements Need Unique Solutions
Waste stream needs differ across all businesses, and some require a unique solution to waste management. Lowering waste collection costs, opting for individual waste streams is a cost-effective option if there is a large production of a particular item.
Cell Phones
Personalizing a C-Thru Nexus 8G Recycling Container, The Landfill of North Iowa added clear signage and advertisement material to accentuate the function of the stream and promote their cause - Cell Phones for Soldiers.
Water Bottles
As people trade in single-use plastic water bottles for reusable alternatives, the water bottle recycling trend rises.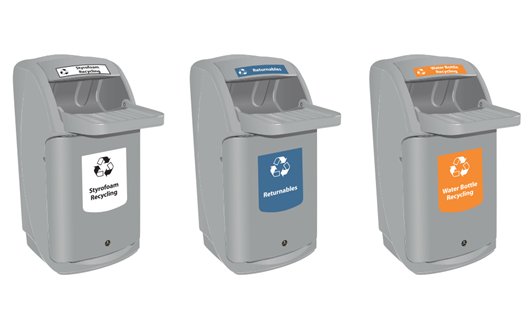 Sitting alongside their Styrofoam and returnables streams, Auto-Owner Insurance Company adapted the Nexus® 36G Recycling Bin with Tray Shelf into a water bottle recycling container by adding two clear decals to the front of the container body.
Why is Personalization Important?
Personalization and clear decals play a crucial role in the success of recycling diversion rates. Frequently adopted by customers, personalization can highlight the function of each stream or reinforce public messaging or branding.
By creating a custom decal, message, or text, the personalization provides consistent standards, emphasizes non-standard materials, and increases visibility.
The Future
With the US National Recycling Goal to reach a 50% recycling rate by 2030, recycling will play a massive role in the fight for a greener, more sustainable future, continuing to provide alternative and environmentally viable solutions to natural resource consumption.*
Resources
References
*https://www.epa.gov/americarecycles/forms/america-recycles-pledge
*https://www.rts.com/resources/guides/the-state-of-recycling-today/
*https://www.spglobal.com/platts/en/market-insights/blogs/petrochemicals/022621-us-plastic-recycling-pet-bottles-packaging-waste-investment
*https://www.coca-colacompany.com/news/packaging-sustainability-in-united-states
*https://eu.usatoday.com/story/money/food/2020/10/22/burger-king-testing-reusable-packaging-would-you-opt-in/3730223001/
*https://www.craftbrewingbusiness.com/news/recycling-facility-in-florida-is-the-latest-recipient-of-a-aluminum-can-capture-grant-program-funded-by-ardagh-metal-packaging-and-crown-holdings/
*https://www.epa.gov/facts-and-figures-about-materials-waste-and-recycling/national-overview-facts-and-figures-materials#recycling*
*https://www.intelligenthq.com/worlds-fastest-growing-waste-stream-e-waste-spotlight-international-e-waste-day/
*https://www.theverge.com/2020/2/28/21156477/recycling-plants-fire-batteries-rechargeable-smartphone-lithium-ion
*https://www.linkedin.com/pulse/north-america-paper-cups-market-overview-dynamics-trends-robert-smith
*https://www.epa.gov/americarecycles/us-national-recycling-goal
Thursday, September 16, 2021