Grocery chains and community organizations have been installing large-capacity recycling receptacles to make a positive impact that really stands out.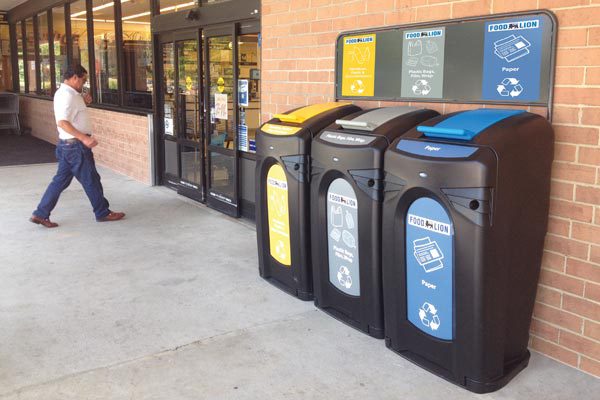 With a focus on ensuring the recyclable materials are of high quality, community leaders have been opting to introduce the high-capacity, multi-stream recycling containers to prevent cross-contamination of waste.
Over recent years, Food Lion has been leading the charge with customer and community recycling programs at their stores. While Beautification Committees, together with businesses, in York County have also installed dedicated collection points outside public buildings to encourage participation.
All have employed highly visible, large capacity solutions which have helped them raise awareness of their recycling programs and collect high volumes of recyclable waste.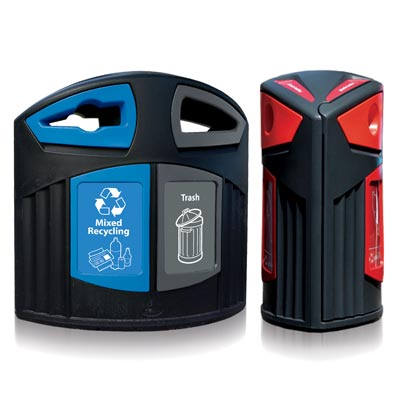 Recycling solutions such as the Nexus® City 64G, available with sack retention or with a classic rollout cart for improved operational efficiencies. Or the Nexus® 52G Dual Recycling Containers (pictured) with the option to collect two waste streams, separately, in one unit.
All of these recycling containers have been designed to help reduce any cross-contamination of waste, which in turn, improves the quality of the recyclable materials in larger quantities.
Specially molded, color-coded hoods, apertures and decals with recognizable recycling symbols are supplied as standard. Together these features help maximize the visibility of the recycling program and encourage participants to use the correct receptacle for their type of recyclable waste.

Alternatively, the decals on the front and tops of the receptacle can be personalized with campaign messages, an organization's logo, or other waste stream symbol which is unique to the program.
Food Lion and the Town of Capitol Heights also added personalized signboards to their recycling points, for an even larger scale impact!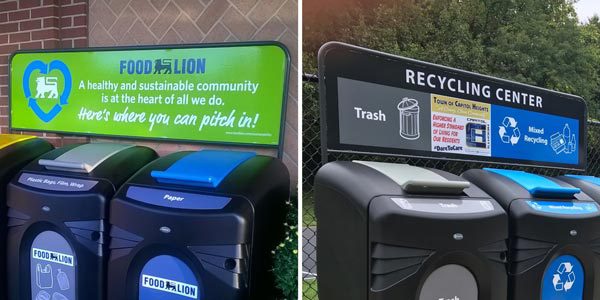 Learn more about how Food Lion encouraged their customers to 'pitch in' with recycling when they introduced Nexus® City 64G Recycling Bins across their stores.
If you would like to explore large capacity solutions for your recycling program, talk to us today. We're available via Live Chat online or please contact us directly.