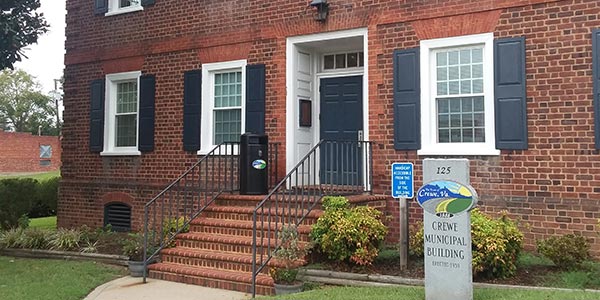 The town of Crewe, VA, has a proud and distinct heritage. Pre-planned, and built by Norfolk & Western in 1888, the town was designed with the intention of supporting the operations of the N&W as a divisional halfway point between Norfolk and Roanoke, Virginia.
Unfortunately, the demand and significance of the railroad repairs facility steeply diminished in the 1950's, mainly as a result of the switch from diesel, to electric locomotives, which required less labor and equipment.
But there's still plenty to see and do in Crewe, and Glasdon couldn't be prouder to have installed Community™ Trash Cans across the town!
With a growing need for appropriate garbage disposal, which was in-keeping with the surrounding environment, yet practical and functional, Crewe town officials were quick to see the benefits of the Community Trash Can.
With a standard hood top design and very little need for maintenance, this trash can is ideal for parks, sidewalks, and shopping malls. As well as this, another great feature we offer here at Glasdon is the option to personalize your product with organization names, logos and messages, making this multi-purpose trash can an additional platform for advertising and brand recognition.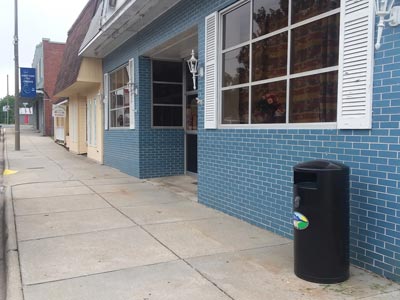 The Community Trash Can, part of a range of
outdoor trash cans
on offer from Glasdon, is available in Millstone, Sandstone and Black, as standard. Officials in Crewe adopted the black version of the trash can, and as we can see from the pictures, it looks great! However, if you wish to get your trash can in; red, yellow, light-blue, light-green, deep-green and light-gray, that's completely okay with us! Take a look at the wide color range available at the bottom of this page.

It's also important to note that this product doesn't just look great, it's also functional, and practical. Made from Durapol™, your Community Trash Can won't chip or rust, is easy to clean, and you'll never need to re-paint it either!
Yet, such an impressive array of design options and build quality would mean nothing if the can, couldn't handle the trash. Thankfully, this trash can is more than up to the mission! With an impressive 34 gallon container volume, and contemporary hood top design to minimize the risk of users leaving trash on top of the unit, this trash can really does have it all.
If you want to follow in the town of Crewe's footsteps and take the first step towards improving your facilities with this functional, modern and versatile trash can, learn more on our website, or contact us today!
Additional Features of the Community Trash Can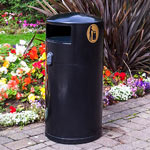 'Trash-it' symbol in your choice of gold, silver, black or white
Key-lock for additional security
Metal liner, with zinc coated steel
Vandal and weather resistant
Modern and functional design