The philosophy behind the Maple Leaf Market concept is simple; to be the go-to place for gasoline, tobacco products and snacks*.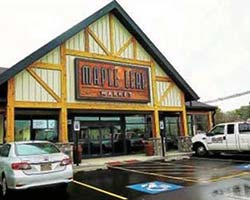 Oneida Indian Nation were quick to spot the growing need for customers to have choice. Maple Leaf Market wanted to create a convenience store where fresh, made-to-order food was available, alongside convenient grab-and-go items...and that's exactly what they created.
Sherrill, New York, saw the birth of the Maple Leaf Market journey back in November, 2017. It proved to be an instant success, and Glasdon were incredibly proud to get involved when the Chittenango store opened.
Here at Glasdon we have a wide range of trash cans available, but Maple Leaf Market chose the Sherwood™ Trash Can due to its high quality, and intelligent design. Made from a unique, realistic timber grain polymer, known as Everwood™ material, the trash can is robust, vandal/weather resistant and requires very little maintenance.
Maple Leaf Market are an inclusive company, and like to work with a number of local vendors such as Utica Coffee, which has been warmly received by customers. Utica Coffee offer in-excess of 35 blends of high-quality coffee, and it's been a huge hit with customers. Other local vendors who proudly boast relations with Maple Leaf include; Joe's Jerky, HP Hood, Tasswood Bakery and New York Bakery, all of which offer a range of options for customers.**

However, with such a selection of food and drink on offer, comes an array of garbage, and that's where the Sherwood Trash Can excels. Available with two options of lining, the Sherwood Trash Can boasts a holding capacity of up to 20 Gallons. Alongside this impressive inner capacity, the sloped hood top design prevents any rain or unsolicited garbage overfilling the trash can, which Maple Leaf Market have noted as a great selling point!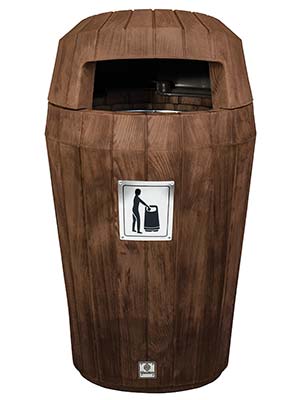 Maple Leaf Market also place a huge emphasis on making sure each of their stores offer a unique selling point, with the store located in Chittenango being a great example of this. Birthplace of Wizard of Oz author, L. Frank Baum, Chittenango hosts an annual 'Oz-Stravaganza' parade, and store employees love to get involved. It's a time where the town really comes alive, bathed in color, atmosphere and celebration. With the Sherwood Trash Can being available in light and dark color options, as well as its excellent holding capacity, it has proved to be a valuable and fitting addition to these exciting community events.
With expansion plans heading in to 2019, Oneida Nation plans to make Maple Leaf Market a visible presence across the region. Here at Glasdon, we would love to be a part of the journey too!
Find out more about the Sherwood Trash Can today, or don't hesitate to get in contact via our free live chat!
Sources:
*https://www.nacsmagazine.com/issues/august-2018/fresh-and-local
**https://www.pressreader.com/usa/the-oneida-daily-dispatch-oneida-ny/20171102/281496456548402
Thursday, September 20, 2018