The University of Virginia (UVA) has recently announced expansion plans to bring Davenport Field at Disharoon Park', up to major league baseball stadium standards.
The expansion plans, which aim to improve the overall fan experience, will include a new field-level clubhouse with expanded seating for fans, a new area for concessions and merchandise, as well as improvements to the players training facilities*.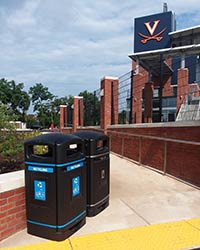 The UVA facilities team also needed to ensure that their waste management infrastructure could match the anticipated increase in spectator numbers, so they called upon Glasdon to assist them in managing trash and recycling across the stadium.
The University has a rich history nationwide and was founded by US President Thomas Jefferson in 1819. And the baseball team is no exception to this long line of success. The Virginia Cavaliers' (NCAA) championship win in 2015 has led them to unveiling plans for the $18 million expansion of their home field**. Not only have they been victorious on the baseball field, but they have also been championing waste management when it comes to trash disposal and recycling.
The new plans for the Davenport field have come with much excitement for the fans of UVA Baseball, as well as a whole host of new Glasdon Jubilee™ 29G trash and recycling containers to improve upon the UVA recycling and waste management policy. The university was recognized in 2015 as a U.S Department of Education Green Ribbon School***, and this investment in the Baseball Field will only develop their reputation further.
On this occasion, UVA selected dual trash and recycling combo bins which have been sited around the Davenport field to form easily accessible waste management stations for their visitors, coaching staff and players. The black body and door of the Glasdon Jubilee bins combined with a choice of banding color options ensure that these trash cans are visible from all areas around the ballpark.
The new bins purchased by UVA, are part of a wider range of outdoor trash cans and outdoor recycling containers offered here at Glasdon. We offer waste receptacles suitable for all environments, available in a large variety of colors, styles, sizes, and capacities. All Glasdon trash cans and recycling containers are also manufactured using high-quality materials, ensuring resistance to the elements as well as vandals with minimal maintenance required.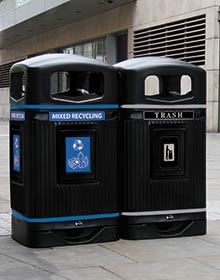 The Glasdon Jubilee trash can is an incredibly long-lasting and hard-wearing recycling or commercial trash can that can be utilized as either a recycling or trash receptacle. Select between the collections of aluminum cans, plastic, glass, and mixed recycling, as well as general trash, for your chosen waste container. Alternatively, we can also provide custom graphics for your desired waste stream in order to cater to all aspects of your waste disposal needs.
Do you need help with improving your campus recycling rates? Then take a look at our 10 top tips to boost campus recycling article.
For areas where a high volume of both trash and recyclable waste is produced, we also offer the Glasdon Jubilee as a duo edition including both containers to make the decision that bit easier.
We are also able to offer the option of personalization and branding for all of our products, where you can choose as little or as much personalization as you want. We also include a free visualization service to give you a visual representation of what our products will look like with your chosen branding, logo or message.
For more information on the Glasdon Jubilee 29G Trash Can and many other styles and sizes of recycling containers, please browse our website or contact us using our LiveChat facility.
Additional features of the Glasdon Jubilee 29G Trash Can

Four large apertures for unlimited accessibility

Non-stick finish for easy cleaning and trash removal

Inter-locking door for a robust security mechanism

Specific colored banding to distinguish between the cans

Choice of lining to suit the use of the can

A wide range of personalization available

Optional domed textured stubber plate for cigarette stubs


Find out more
Source:
(*)(**)http://uvabaseballrenovation.com/
***https://sustainability.virginia.edu/about/overview/awards.html
Monday, November 19, 2018