Dominion RiverRock Festival is the nation's largest outdoor sports and music festival orchestrated by Venture Richmond and the Sports Backers. The event unites athletes, spectators, musicians from all over the region for a 3-day festival against the urban backdrop of downtown Richmond's riverfront.
The festival includes various outdoor sporting activities including kayaking, paddle boarding and biking in a bid to promote Richmond's unique riverfront, downtown trails and white water rapids to enthusiasts everywhere.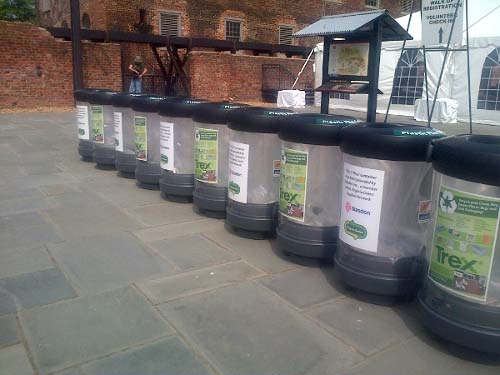 Our personalized C-Thru™ Plastic Film Recycling Bins
To celebrate our appreciation for such a fantastic and local event, we partnered with Trex Company and Virginia Green to donate a number of our C-Thru™ Plastic Film Recycling Bins. We were pleased we had the opportunity to help continue the promotion of Richmond's outdoor recreational areas.
To learn more about the Dominion RickerRock Festival please visit www.dominionriverrock.com