The City of Rockford has recently transformed a local sports facility that includes new basketball courts, volleyball courts, meeting spaces as well as a restaurant opening in the coming months. We were pleased we could be included in the facility's refurbishment strategy that aimed to meet community needs and enhance one of the largest sports facilities in the Midwest.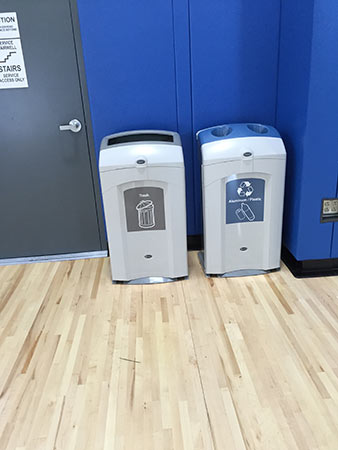 Nexus® 26G Aluminum & Plastic Recycling Bin with coordinating Trash Container
Our recycling containers were chosen to complement the modern indoor sports complex and provide visitors with the correct receptacles to dispose of their waste. Due to aluminum cans and plastic bottles being popular recyclables at the facility, our Nexus® 26G Recycling Bins were the ideal unit to segregate this waste. The slim design of the Nexus 26G means that they could easily be placed against walls around the facility without interfering with activities or visitors.
The facility also chose coordinating Nexus® 26G Trash Containers to help collect any waste that is not recyclable and help to create centralized recycling stations for visitors.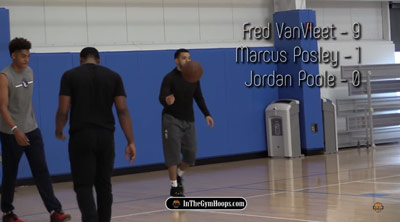 Nexus® 26G recycling bin and trash container feature in background of Fred Van Vleet game
We are pleased to see our Nexus 26G recycling containers and trash cans in action when NBA star, Fred Van Vleet, returns to his hometown to test out the great basketball facilities on site. We hope that they will encourage visitors to recycle their used cans and bottles after taking part in one of the many sports on offer at the sports complex.
We're happy we had the opportunity to be a part of such an exciting refurbishment plan.
Design features of Nexus® 26G Recycling Bins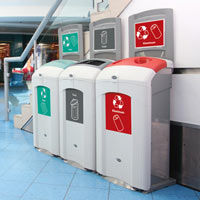 Large capacity
Contemporary & sleek design
Flexible siting options
Personalize with company logo
Convenient bag holder system
For more information on our indoor recycling bins or trash cans - get in touch today
Email us inquiries@glasdon.com
Use our live chat facility on our website
Call us toll free 1-855-874-5273