Guilford College is a leading Liberal arts college nestled in Greensboro, North Carolina. The College is continuously working towards a sustainable future with deep values of Stewardship embedded into their philosophy. We were happy we had the opportunity to work with them and contribute towards their waste reduction and recycling efforts.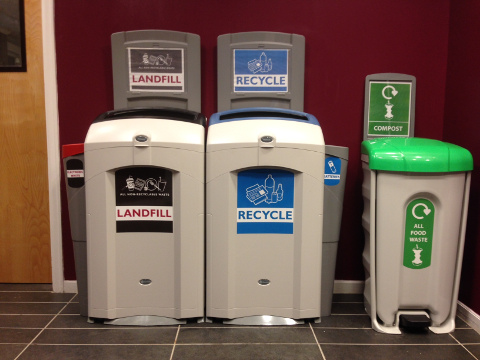 Nexus 26G Trash & Mixed Recycling Bins alongside Nexus Shuttle in college hallways.
The College chose to customize a number of our Nexus® 26G's to create 'Landfill' and 'Recycle' streams. These were ideal for the hallways as the units are able to be neatly stacked side-by-side and also feature optional side pods to collect smaller deposits of electronic waste such as batteries. The College opted for additional graphic holders, which provided bright and visually appealing information of what material could be deposited in each unit. Our Nexus® Shuttle Recycling Bins were also chosen to encourage students to recycle their unwanted food waste, which the College then composts and uses as fertilizer on the campus grounds and farm.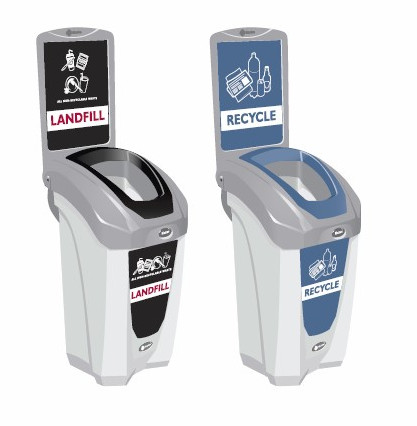 Supplied CAD drawing of personalized Nexus 8G for the college's library.
We also supplied a number of our smaller capacity Nexus® 8G's to be placed in Hege Library, which the College were able to customize to coordinate with the other units in their program. These were a great choice as they are the ideal size for placing next to desks or furniture and take up minimal space.
We're happy we could work with Guilford College to help increase their diversion rates.
If you'd like to learn more about creating a personalized recycling program, speak to us on Live Chat today!
Alternatively, call us toll free on 1-855-874-5273 or drop us a message inquiries@glasdon.com
Thursday, August 25, 2016