Paint manufacturing trailblazer, Benjamin Moore provide the highest quality paint with the most unique and well-detailed range of colors in the premium paint industry*.
As well as their tremendous attention to detail when it comes to color, they are also unique in their drive to reduce and eliminate the levels of dangerous toxins paint production can emit. So, when they came to Glasdon for help with their recycling and waste management we were thrilled to provide them with the help they needed.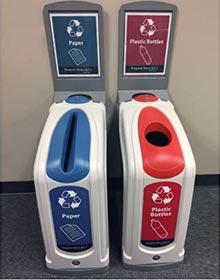 Their recycling receptacles of choice were the Nexus 13G Recycling Bin, an excellent addition to their recycling management pallet. More specifically the plastic bottle recycling bin and the paper recycling bin versions of the nexus. The Nexus 13G is the perfect recycling container for the office environment and compliments the style conscious needs of the Benjamin Moore brand.
With 13 gallons of storage available for recycling waste, there isn't a more suitable indoor recycling solution. The Nexus 13G can be purchased in both a trash and recycling bin.
Benjamin Moore have an environmental aim**, to try and maximize the general utilization of their reuse and recycle scheme. This aim has resulted in their Clifton, NJ distribution center receiving the 'Outstanding Achievement in Recycling by a Business' accolade. This aligns their aims with ours at Glasdon and only further underlines the pride of working with an organization such as Benjamin Moore.
The most recent Environmental Protection Agency (EPA) statistics show that in the United States in 2015, 25.8% of solid waste was deposited through recycling and 52.5% was deposited through landfill***. A company with a corporate responsibility reputation like Benjamin Moore aim to transform these recycling statistics into more favorable ones. The working relationship between them and ourselves at Glasdon is an excellent step in the right direction.
Do you need help on deciding whether to carry out single stream or multistream recycling? Have a read of our FAQ article on the matter.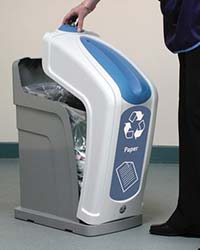 The introduction of the Nexus 13G in the Benjamin Moore offices offers their workspace a more convenient solution to any recycling problems of the past. With the stylish appearance and convenient sizing of the bins, the Nexus 13G is an essential in the workplace that's loved by the Benjamin Moore employees.
Want to learn more about improving recycling in your office or company building? Have a read of our optimizing workplace waste management guide.
Their bins have been specifically personalized with Benjamin Moore & Co decals beneath the paper and plastic bottle logos on the main body of the bin. This element of personalization can be purchased and tailored to many Glasdon products.
We also offer a free visualization service where customers can apply their branding in a variety of ways to our products and be able to see first-hand how their branding will look on the Glasdon product of their choice.
For more information on the Nexus 13G and many other styles and sizes of recycling containers, please browse our website or contact us using our LiveChat facility.
Additional features of the Nexus 13G

Convenient 13 gallons of capacity

Bold and sleek looking Duratec™ design

Various aperture styles and colors available

Non-marking Durapol™ feet for container stability

Easy to clean surfaces for operators

Optional sign kit

Wide range of personalization options available

Convenient size for positioning side by side

Find out more
Source:
*https://www.benjaminmoore.com/en-us/about-us
**https://www.benjaminmoore.com/en-us/corporate-responsibility-sustainability/planet
***https://www.epa.gov/sites/production/files/2018 07/documents/2015_smm_msw_factsheet_07242018_fnl_508_002.pdf