Fort Wayne International Airport is located in Allen Country, Indiana. Originally built during World War II as a US Army Air Forces base, the airport today serves more than 600,000 passengers every year.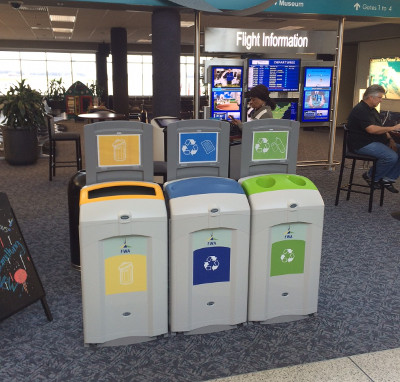 Customized Nexus 26G Recycling Bins in airport's terminal areas
The airport is owned and operated by Fort Wayne-Allen Country Airport Authority who continuously strive to ensure that the airport's facilities promote a safe, clean and attractive environment. The Authority were looking to develop their recycling program and encourage passengers and faculty to divert reclaimable material in terminal areas. Since the terminal is home to a restaurant and coffee shop, the authority required stylish units to segregate any used drink containers such as cans and plastic bottles. The Authority identified a further opportunity to recycle paper waste such as magazines and also chose a coordinating trash can to complement their program.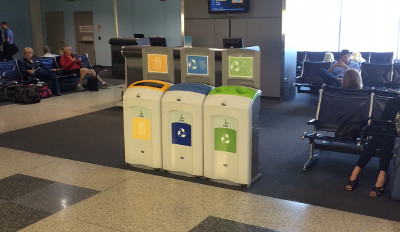 Customized Nexus 26G Recycling Bins in airport's terminal areas
It was decided that our Nexus® 26 Recycling Containers would be the ideal solution to help increase recycling in the terminal areas. They were placed side-by-side and helped to create a centralized and visible recycling station for passengers to use. The Authority were able to personalize their containers, incorporating their airport's branding onto the body of the bins to help increase participation of their recycling program.
We're happy we could help the airport increase their recycling efforts.
To learn more about our indoor recycling containers, call us toll free on 1-855-874-5273, drop us a message or speak to us on live chat.