More communities are beginning to introduce recycling containers to parks and recreational areas, motivated by maintaining a cleaner community, establishing a positive image and reinforcing sustainable behavior. However, the real challenge of recycling is not necessarily technical but behavioral; park managers know that recycling is not simply providing recycling bins and hoping people will use them. Behavior needs to be initiated and changed by the surrounding environment, reinforcing the idea that when it comes to public space recycling; design is key.
"The real challenge of recycling is not necessarily technical but behavioral"
It's believed that most people are both willing and inclined to recycle so long as it is made as easy and simple as possible. It's imperative to try and remove the barriers that deter people from recycling: Confusion and Inconvenience. These barriers are created by community-specific programs as well as inconsistent recycling standards which are forcing people to continuously re-learn and adapt their behaviors wherever they go. This may diminish the priority of recycling and correct waste disposal and can cause a multitude of problems including cross contamination, increased landfill disposal and rejection of recyclables.
Whilst every park and public area will have several factors that influence how visitors respond to a waste management program, there are some universal factors that could be applied to your trash and recycling schemes: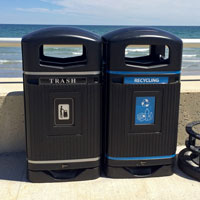 Don't Isolate Recycling
It's important that wherever there is a recycling bin, there is also a trash can. The likelihood of contamination is increased when receptacles are separated from one another as well as when they are placed on the opposite side of traffic flow. By supplying separate and distinct units, you are offering people a choice on whether they want to recycle or not as well as helping to reduce the risk of people using the receptacles interchangeably.
Consistency
A study by The University of Michigan found that switching from identically colored bins to different colored increased the recycling rate from 55% to 88%, concluding that the color can affect the salience of the receptacles. Whilst there is no national standard, facility managers should try to ensure that their color scheme is kept consistent and harmonizes with existing standards in the community. This will help people to recognize the correct behavior as they associate the program with the expectations and norms of surrounding areas.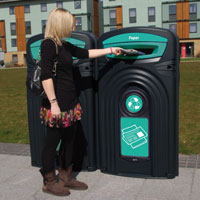 Simplicity
People only have a number of seconds to digest the information displayed on your receptacles so it's important that you do not over-complicate it. Ensuring that your receptacle can be easily recognized from a distance will help to trigger the desired behavior. Recycling containers that feature minimal text as well as images of the waste stream will help to reinforce your messages and help to educate on the waste that is being collected.
If these universal design factors are aligned with the strategic placement of your trash cans and recycling containers, it presents a real opportunity to encourage your visitors to utilize all available receptacles.
To learn more about our public recycling bins and park trash cans – please speak to us on LiveChat