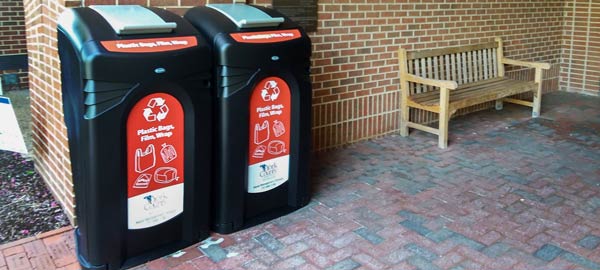 At Glasdon, we strive to create products which are innovative, practical and sustainable.
With that in mind, we were delighted to learn that our multi-purpose Nexus City 64G Recycling Bins are helping fulfil a pretty inspiring campaign in York County.
The York County Beautification Committee, based in Virginia, is collecting plastic bags and film/wrap, all in-a-bid to actively participate in the 'Recycling Challenge.'
The 'Recycling Challenge' is hosted by the Trex Company, and has been an on-going project since 2006. The objective of the Recycling Challenge is simple; to encourage public awareness and education on the importance of plastic bag and film recycling, through school and community programs.
And we can't deny that when it comes to conscientiously disposing of our plastic bags, there's a pretty big problem.
For example, did you know...
Across the U.S., we get through an astonishing 102 billion plastic bags each year, which through their manufacturing process will consume 12 million barrels of oil, and if not recycled, take up to 1,000 years to decompose. Take a look at our guide on everything you need to know about plastic bag recycling for more information.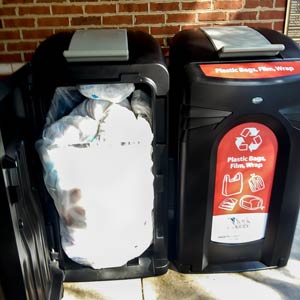 Participants of the Trex Recycling Program are set a target – to collect 500 pounds of plastic bags, film and wrap within a 6 month period. We always love to see our products in action, and it's amazing to see that the Nexus City's impressive 64 gallon holding capacity has proven to be a hugely valuable asset for those aiming to achieve their 500 pound recycling goal.
If the target is met, or surpassed, by those taking part, they are rewarded with an earth-friendly Trex bench – created from 100% recycled plastic bags and film! Read more about the Trex Recycling Challenge.
When it comes to encouraging people to recycle, half the battle is making sure people are actually aware of the service you are providing. As we can see, the Nexus City 64G is making a pretty striking impression in York County, with personalized decals and brightly colored apertures re-assuring users they are disposing of their recyclable plastic bags and film/wrap in the correct container, whilst simultaneously helping to prevent the prospect of any cross-contamination.
Here's what else you can expect from the Nexus city 64G range:
Houses a 64 gallon bag holder system, or a 36 gallon wheeled liner
Curved, sloping lid prevents any waste being left on top of the bin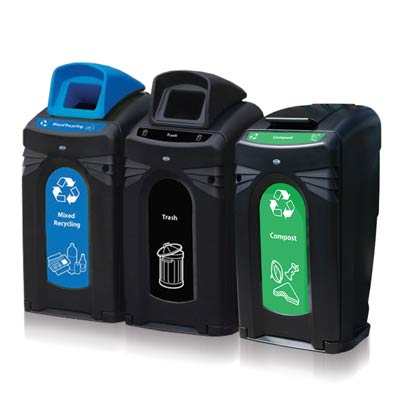 Robust aperture flap with large handle and durable stainless steel hinge, thus preventing any lightweight plastic bags escaping from the bin (also available with open aperture for alternate waste streams)
Addition of large, clear decals promote correct use
Easy to maintain and clean, with smooth surfaces inside and out
Double skinned-construction adds stability and strength to ensure a long service life
Base ramp makes it easy to roll a wheeled container in and out of the housing
Optional Poster Frame Kit gives more flexibility for desired decals
If you'd like any more information on our range on Nexus City 64G Recycling Bins, or any of our other products, why not: Email us inquiries@glasdon.com | Call us Toll Free on 1-855-874-5273 | LiveChat with us on our website?
Sources:

https://www.yorkcounty.gov/2039/Trex-Plastic-Bag-Recycling-Challenge
https://www.unric.org/en/latest-un-buzz/28776-100-billion-plastic-bags-used-annually-in-the-us
Thursday, August 22, 2019