Grocery giant Food Lion are strongly committed to finding ways to ensure that they operate in a sustainable manner. Food Lion already take significant measures to conserve their energy and purchase from sustainable sources, but as part of their commitment to becoming Zero Waste, they were also looking to improve their recycling rates.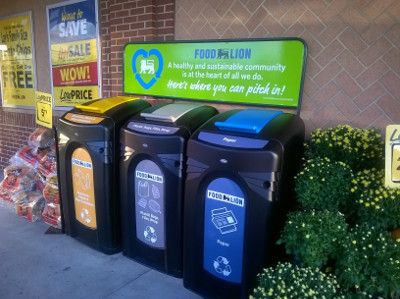 Personalized Nexus 64G Recycling Containers outside Food Lion
Since plastic film is not currently accepted in most curbside recycling programs, Food Lion identified this as an opportunity to provide their local communities with a place to responsibly recycle it. It was decided that an adaption of our Nexus® City 64G Recycling Containers was an ideal solution to help collect large volumes of plastic film, paper and mixed beverage containers from customers and employees.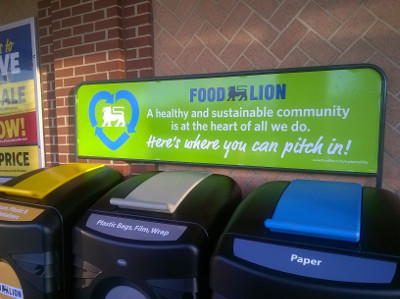 Custom flip lids with magnetic graphic board to promote the recycling program
As part of the customer-led project, Food Lion were able to personalize their units with specially-colored flip lids and a key-less operation. The company's logo was incorporated onto the graphics to help promote the program throughout the community and tailor-made magnetic boards also helped to create a visible recycling station.
We're glad we could help Food Lion work towards creating a healthy and sustainable community.
For more information on our products for retail or our outdoor recycling containers, please speak to us today
Call us toll free 1-855- 874-5273
Live chat with us now
Thursday, December 1, 2016