Battery Park City, situated at the southern tip of Manhattan in New York, is a residential community tucked between the Financial District and the Hudson River. Lined with parks, gardens and marinas, Battery Park City has a lot to offer to both residents and tourists alike.
Photo by Marco Verch / CC BY 2.0
The incredible waterfront views from the esplanade that stretches across the entire length of the city draws in bustles of Wall Street professionals during the working week. Whilst the historical and culture-filled memorial sites and museums provide plenty of activities to occupy any visitors.
Priding themselves on being a waterfront community that listens to their resident's concerns, the Battery Park City Authority (BCPA) is in the process of installing Guardian™ Life Ring Cabinets along the Esplanade in response to community requests.
To start the rollout of life ring cabinets, Battery Park City has installed a Guardian 24 life buoy cabinet, complete with a 24" life ring and rope, at the end of Pier A and a second one at the nose of Wagner Park.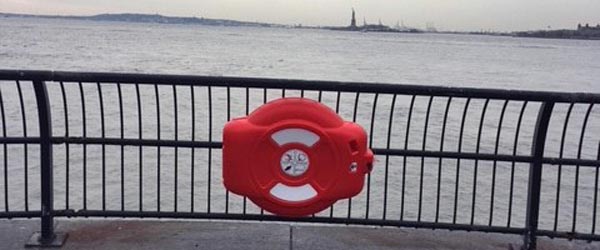 Guardian 24 Life Ring Cabinet sited at Wagner Park
They plan to install five more life ring cabinets at the following north-to-south locations:
North Esplanade behind Stuyvesant High School
Rockefeller Esplanade by the Ulysses Statue
Rockefeller Esplanade by the pool tables
Esplanade at Rector Gate
Wagner Esplanade near the Museum of Jewish Heritage
View a map of the planned Guardian Life Ring Cabinet locations here*.


Our Guardian 24 Life Ring Cabinets help to protect water safety equipment such as life buoy rings and water rescue throw lines from weather conditions and vandals. Manufactured from corrosion resistant Durapol™ material and complete with a usage indicator, these cabinets offer a long-service life with minimal maintenance required.
Suitable for waterfronts, beaches, rivers and lakes, Guardian life ring cabinets are also available in a larger 30" model with optional life buoy ring and rope.
Battery Park City opted to site their life ring cabinets in busy areas along their waterfront, in order to provide multiple safety points for their esplanade visitors.
*President and Chief Operating Officer of BPCA, B.J. Jones, said:
"While we urge people to always take care along the Esplanade, as a waterfront community we'll always look to implement common-sense precautions aimed at keeping the public safe."
We're happy we could help Battery Park City provide a safe environment for their visitors!
To learn more about our life ring cabinets, please feel free to browse our website or get in touch today via email or LiveChat!
Alternatively, download our step-by-step Buyers Guide.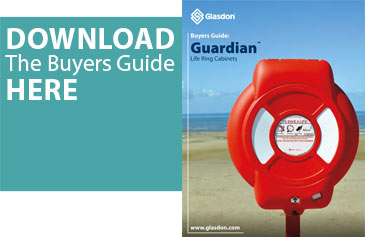 Source:
*http://bpca.ny.gov/community/battery-park-city-authority-installs-emergency-life-rings-along-bpc-esplanade/
Map correct as at 04/13/18