Old Town, Alexandria, is located just minutes outside the busy hustle and bustle of Washington D.C., and is quickly becoming an ever more popular tourist hotspot.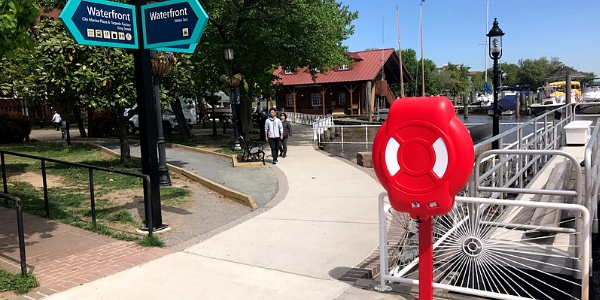 This historic district, which George Washington himself once called home, was founded in 1749, and today welcomes visitors from all over the world.
In amongst the metropolitan hub of Old Town's thriving independent restaurant and boutique scene, you'll also find intimate museums and artistic culture, with the old torpedo factory being a prime example.
Somewhat ironically, construction of the torpedo station began the day after Armistice Day, in November 1918. From there, it was used to store munitions, and a facility to construct aircraft and submarine torpedoes during WWII.
Today, the old torpedo factory is known as the Torpedo Factory Art Center, after the building was bought by the City of Alexandria in 1969.
The waterfront location of the Center, on the banks of the River Potomac, certainly adds to the tranquil beauty and elegance of such a surrounding, but it also raises significant safety concerns.
And it's easy to see why...
Attracting some 500,000 visitors each year, the Torpedo Factory Art Center has been an Alexandria landmark for more than 40 years – and with such a mass of people in close proximity to the banks of the Potomac, Guardian Life Buoy Housing's proved to be a natural fit.
Why choose Guardian Life Ring Cabinets?

A busy, waterfront environment, such as the Potomac River, is a location where Glasdon ring buoy cabinets thrive. Deigned to be highly visible and easily accessible, these diverse and innovative lifebuoy housings offer striking aesthetics, alongside long-lasting durability.
The City of Alexandria ordered 8 of our Guardian Life Ring Cabinets with 24" Life Ring and Rope, which have been dispersed along the waterfront, making them conveniently accessible across a wide area.
Here's what else you can expect from Guardian Life Ring Cabinets:
Available in 24" or 30" versions, both models are designed with a universal fit to house USCG approved ring buoys, and standard torpedo buoys (including ones made by different manufacturers)
A wide-range of built-in safety and inspection features, including; inspection indicator, toggle latch, clear instruction decals, and much more
Security seals (pack of 50 available as an optional extra) provide a strong deterrent against misuse, and informs the operator that the cabinet has been opened
Choose from a range of fixing options, including; wall, rail and pole mountings. Pole-mounting fixing available with wither surface-mounting post, or below-ground installation
Striking color options available. Choose from red & white, or yellow & white
Environmentally friendly. We're super proud that Guardian Life Ring Cabinets are recyclable at the end of their service life
For more information about Guardian Life Ring Cabinets, talk to us today!
Alternatively, download our Buyers Guide for step-by-step help in specifying your Guardian order.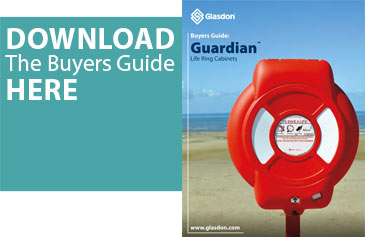 Sources:
https://www.visitalexandriava.com/old-town-alexandria/

https://en.wikipedia.org/wiki/Torpedo_Factory_Art_Center