National Harbor is a waterfront resort destination on the beautiful banks of the Potomac River in Maryland. The resort is home to over 150 shops and boutiques as well as over 30 dining locations making it a popular choice for thousands of visitors and tourists around the country.
Our Guardian 30 Life Ring Cabinets were chosen to be installed on National Harbor to house the lifesaving equipment that is necessary in busy areas. The housings are particularly ideal for locations such as water fronts due to their ability to withstand adverse weather and user misuse.
National Harbor were able to personalize their life ring cabinets with custom text and images to ensure the life ring cabinets fitted in perfectly with the harbor's surroundings as well as establish it as a clear safety point if an emergency should happen.
Design features of the Guardian™ 30 Life Ring Cabinets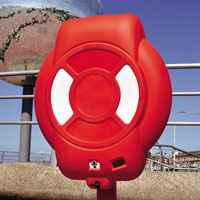 Manufactured with Durapol™, a corrosion-resistant material
Ropemaster™, a quick release system
Minimal maintenance
Usage and interference indicator
Weather resistant
Ideal for beaches, lakes & rivers
If you'd like to learn more about our life ring cabinets, we'd love to hear from you.
Email us inquiries@glasdon.com
Use our live chat facility on us.glasdon.com
Give us a call 1-855-874-5273

Monday, September 28, 2015