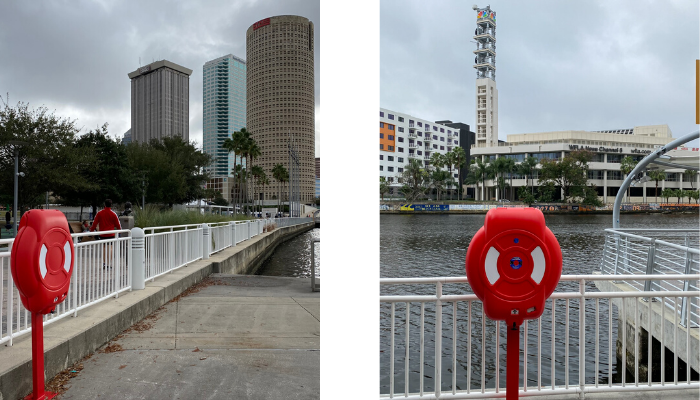 Tampa is the third largest city in Florida, after Miami and Jacksonville, with Tampa Bay being the largest port in the state. Such a location requires industry leading, reliable, water safety equipment, and that's exactly where we specialize.
Why did the City of Tampa choose Guardian™ Life Ring Cabinets?
As well as being a populous city, where many people reside, Tampa is also home to a number of vibrant and engaging tourist attractions - from arts and entertainment, to museums, cuisine and regular, city-wide events.
A notable event is the annual Gasparilla Pirate Festival - a pirate-themed mock invasion, which attracts hundreds of thousands of visitors to the city each year.
Guardian™ life ring cabinets immediately proved to be a natural fit. Easily-accessible, strikingly-visible and impressively-durable, our vital equipment offers a practical solution when ensuring water safety remains high on the agenda.

Friends of the Riverwalk - enhancing Tampa City Center
Guardian™ life ring cabinets are also assisting the aims and aspirations of the Friends of the Riverwalk. This non-profit organization is working with the city of Tampa to transform downtown's waterfront into an active, pedestrian-friendly environment for commerce, transportation, entertainment and fitness. These inspirational objectives are all being undertaken to enhance the city center, and we're proud that our life ring cabinets are helping to keep the waterfront safe, too!
Here's what else you can expect from Guardian™ Life Ring Cabinets:
Co-ordinates with versatile Glasdon Life Jacket Boxes
Available for either 24" or 30" life rings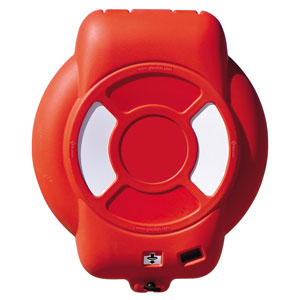 Choose from a wide range of branding and personalization options, tailoring the life ring cabinet to your exact requirements
Ropemaster™ quick release system helps to save valuable seconds in an emergency
Security seals and inspection indicators provide a deterrent against misuse, allowing for a quick and easy inspection of the life ring holder
Choose from a variety of fixing options to perfectly fit your desired location
Guardian™ can be supplied with an optional USCG approved ring buoy and rope
Robust exterior is designed to withstand extreme temperatures, to protect the life-saving ring inside from harmful UV rays which can degrade the equipment
Thursday, January 16, 2020