Glasdon have launched a new addition to the popular Glasdon Jubilee range. This trash can has been designed to combat waste management challenges faced by busy public spaces, parks and rest areas.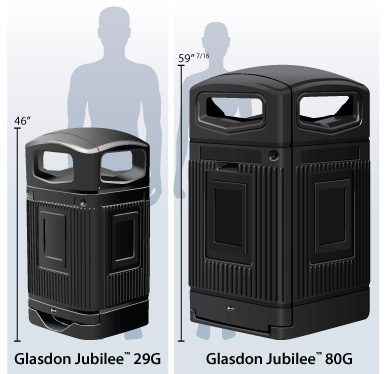 The new Glasdon Jubilee™ 80G is a large capacity polymer trash can that is able to house a wheeled liner or bag holder system. This trash can has been designed for high foot traffic environments and trash hotspots such as urban spaces, parks and rest areas.
The traditional styling of the Glasdon Jubilee 80G allows it to blend into any environment to provide an attractive solution to unsightly trash. The large volume of the Glasdon Jubilee 80G trash can also help reduce collection costs as the need for frequent emptying is decreased.
Tackling Trash in Busy Pedestrian Centers
Busy urban areas and downtown business districts where pedestrians flock to shop, eat, socialize and work all attract and accumulate trash. The presence of trash cans in high pedestrian locations discourages the likelihood of littering, resulting in a cleaner, more aesthetically pleasing environment.
According to Keep America Beautiful, cigarette butts are the most frequently littered item in America. A variety of smoking control options are available for the Glasdon Jubilee 80G. From aperture stubber plates to hood-mounted ashtrays, the Glasdon Jubilee 80G smoking control solutions can help minimize the number of dropped cigarette butts.
The Project for Public Spaces recommends placing 2-4 trash receptacles per block in a downtown area, with one by crosswalks and another near seating areas along pedestrian walkways. The Glasdon Jubilee 80G has four large apertures making it easily accessible for high activity and high pedestrian areas where people want a quick solution to their trash.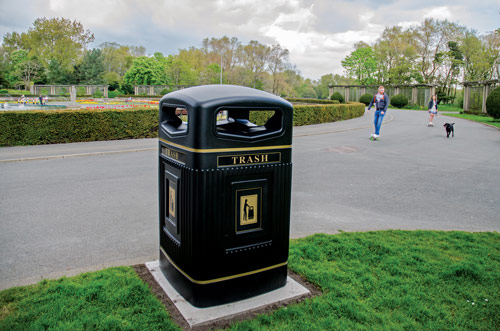 Putting an End to Litter in Parks
Public spaces, plazas and parks are areas where individuals will come together for social and recreational activities. Parks can be pivotal for community development so it's important to keep our green spaces clean and welcoming for visitors.
KAB found that as distance between trash cans increases so does the chances of litter being dropped on the floor. Based on this, we recommend placing waste receptacles at frequent intervals throughout parks to encourage passersby to dispose of litter responsibly.
The Glasdon Jubilee 80G is an ideal size and style container for parks and green spaces. Thanks to its traditional styling, the Glasdon Jubilee 80G trash can complements other park furnishings and co-ordinates with the other products in the Glasdon Jubilee range.
Reducing Trash in Rest Areas
Roadside litter is more than just unsightly to look at, it can also become a matter of health and safety. From litter prevention campaigns to adopt-a-highway programs, many states are getting involved in sustaining roadside beauty.
In research for their latest litter prevention campaign, Tennessee Department of Transportation noted that roadside litter costs the state over $15 million to clean up.
The behaviours contributing to trash along roadways can be both accidental and intentional. It was found that 28 per cent of roadway trash in Tennessee is intentional litter, where individuals deliberately throw their trash out of vehicle windows. To reduce the likelihood of intentional trash encourage motorists to keep hold of trash until they reach a suitable rest stop or transition point.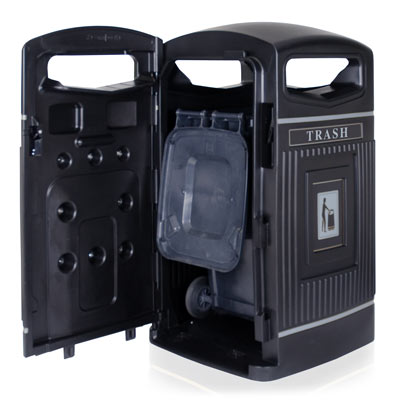 The Glasdon Jubilee 80G trash can is suitable for siting in rest stops or transition points near roads. Manufactured from Durapol™, Glasdon Jubilee 80G is an extremely robust and durable outdoor container which requires minimal maintenance and offers a long-service life.
The operational aspect of the Glasdon Jubilee 80G also presents opportunities to improve operator safety. When used with a wheeled liner, mechanical emptying will overcome the risk of manual handling issues. The new integrated recessed lifting handle ensure safe opening for the operator and avoids the need for hands to go inside the aperture.
The Glasdon Jubilee 80G joins the existing Glasdon Jubilee 29G trash can and recycling bin range. All of which are available with a variety of innovative features and can be personalized to suit your requirements.
We are confident that the new Glasdon Jubilee 80G trash can will meet and exceed your waste management needs.
To find out more about the Glasdon Jubilee 80G – talk to us on LiveChat or contact our friendly advisors today!