Laboratories can offer a great opportunity for sustainability.
According to Nature*, laboratories worldwide are responsible for an estimated 5.5 million tons of plastic waste. Similarly, a pilot study by McGill University** conducted across more than 400 of their wet labs found a large percentage of lab waste is made up of recyclable material including over 100 tons of plastic and 275 tons of glass.
This research shows that there is a great possibility to reduce the environmental impact of laboratories. Many labs across the United States are already doing their part to be green.
Make recycling easier and stop recyclable laboratory waste from going to landfill using these 5 simple strategies:

You can also download our free Lab Recycling Guide here.
Make recycling more convenient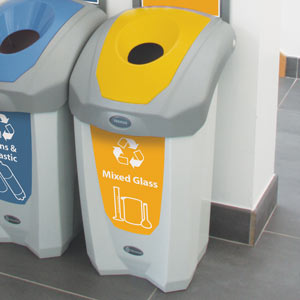 Removing the inconvenience of leaving the lab to recycle can be beneficial for fast-paced environments.
Making your recycling facilities easily accessible in the lab will help provide a quick and easy method of reducing the amount of recyclable materials that end up in the trash.
Siting the required recycling bins with recognizable labels in the labs themselves will help to integrate effortless recycling behavior and boost recycling rates.
You can also tailor your recycling facilities to lab environments by customizing the graphics on your recycling bins. Glasdon offer the option of personalization in order to best suit your recycling needs.
Replace disposable plastic vials with glass
Single-use items are often already sterilized, making for a popular, but not always sustainable, choice within laboratories.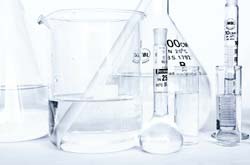 By swapping out disposable, single-use plastics for glass vials, you could save both landfill space and money. If they haven't been used for hazardous chemicals, glass vials can be sufficiently cleaned and reused which minimizes the need to purchase replacement stock on a regular basis. Glass vials containing non-hazardous chemicals can also be easily recycled using mixed glass recycling bins when no longer needed.
Remember to rinse and dry glass vials containing non-hazardous chemicals before recycling to minimize the risk of contamination!
Incentivize recycling
U.S. states with bottle bills (where each beverage container that is recycled earns a small refund) have a 36% higher beverage recycling rate than the average state***.
Ideas such as this can be incorporated into laboratories. You can create incentives to recycle by offering small rewards to the lab or individual that recycles the most waste throughout the year.
Incorporating a green lab program can also be a good method of incentivizing recycling.
My Green Lab is a sustainable lab program that currently holds competitions such as the Freezer Challenge, in which labs from all around the world compete globally in order to win prizes for environmental sustainability. Getting involved in challenges such as this can be a successful way of encouraging recycling practices within your lab.
Raise awareness through recycling committees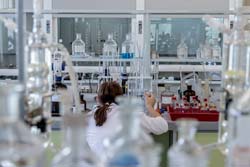 Establish a recycling committee to inform people about where to find recycling bins on site, as well as which waste streams are accepted, to spread the word about your lab's recycling goals. This can be done by creating posters, scheduling e-newsletters or adding a recycling column to the in-house newspaper or website.
Holding regular recycling drives or activities such as sponsored lab wash-ups may also be ideal to encourage lab technicians to reuse products rather than dispose of them.
This could be a great way of inspiring people to get involved in eco-friendly events whilst raising money for the labs at the same time.
Provide accurate information on how to recycle lab waste
Lab waste is often hard to categorize. It is therefore important that strict and accurate guidelines are provided to ensure that lab workers know how to dispose of their waste properly, without potentially harming themselves, others or the environment.
Our free lab recycling guide contains a host of information on how to dispose of lab waste correctly and easily. Remember to check your local recycling rules and guidelines too before placing your items into a trash can.
Our top picks for lab friendly recycling bins:
For more information on the range of indoor recycling bins that Glasdon offer, please feel free to browse our website or contact us today!
Email us inquiries@glasdon.com | Call us Toll Free: 1-855-874-5273 | Live chat with us on our website
Sources:
* http://www.nature.com/nature/journal/v528/n7583/full/528479c.html
** https://www.mcgill.ca/ehs/files/ehs/akbari_et_al_lab_sustainability_initiative_spf0131.pdf
*** http://www.container-recycling.org/index.php/issues/bottle-bills