The holiday season is finally upon is, which means so is the time for gift wrapping. With over 98% of consumers known to wrap gifts during the holidays*, Christmas is the perfect time of year to think about ways to minimize your paper waste.
Keep reading for some handy tips and advice on how to reuse, reduce and recycle your gift wrap to make for a greener Christmas.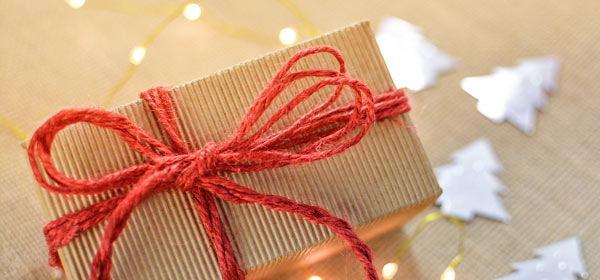 Recycle
Contrary to popular belief, wrapping paper is not always recyclable.
Metallic or shiny gift wrap often contains non-paper additives such as plastic film, making it unsuitable for recycling. Glitter, also a common, festive choice for wrapping paper, is often unrecyclable and can contaminate other paper waste if put into a recycling container. Where possible, opt for biodegradable glitter for an eco-friendly festive alternative.
Before you throw your wrapping paper in the trash, wait! A large majority of wrapping paper can be recycled (once any sticky tape has been removed) using a paper recycling bin. Make sure you quickly check the labels for recycling information when purchasing gift wrap, in order to make a greener choice.
You should also check your city's recycling rules to clarify whether wrapping paper is accepted in your local area.
Tip: Avoid glitter and sticky tape where possible to ensure your gift wrap can be recycled once used.
Reduce
Research** has shown that more than 1 million tons of additional waste is produced per week in the US during the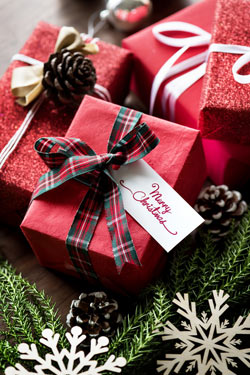 Christmas period, so why not help to reduce waste by making your gift wrap choices more eco-friendly this year?
Gift boxes are a great alternative to wrapping paper and tend to be made from cardboard, meaning they can be recycled once used. Personalize your gift box by decorating it with a festive bow or colourful ribbon, and encourage the recipient to reuse it once it has been opened.
If your gift is oddly shaped and won't fit into a box, you can always wrap it in tissue paper or newspaper instead. Tissue paper is often made from recycled material and can be easily reused more than once. Use string or ribbon to hold your wrapping together as opposed to sticky tape, to ensure your choice of paper can be recycled after use.
Spare pieces of fabric can also be used to wrap your gifts in a decorative manner, and can be reused multiple times. Pop the gifts into a reusable gift bag for an extra festive touch.
Tip: Find alternatives to wrap your gifts in such as empty boxes or fabrics and secure with a bow to add a final festive touch!
If you're planning on giving someone a gift card this year, it may be a good idea to go for an electronic voucher instead. Plastic gift cards are made from recyclable PVC plastic (#3). However, they also often contain materials that can contaminate other recyclables, such as scratch-off foil labels or hologram images, and so are not widely accepted.
Check out our easy guide to plastic recycling symbols.
E-vouchers can be a great alternative that work just as well as gift cards but without using up any landfill space. If you do prefer to give tangible gift cards, look to use retailers who use wood, paper or other eco-friendly alternatives to plastic.
If you receive a plastic gift card this Christmas, you can always keep it to reload and pass on to someone else as a gift, rather than throwing it in the trash.
Tip: Ask for an e-voucher or paper receipt when buying a gift card this year! Send it in a festive email or card to keep with the Christmas theme.
Reuse
If you find yourself in a position where you have heaps of leftover gift wrap headed for the trash can after Christmas Day, it is a good idea to see if any of it can be reused.
Gift wrap that is still in tact can be reused to wrap gifts the following year. Pick out used wrapping paper that is relatively crinkle-free and store it away in a folded pile, ready to be used again next Christmas.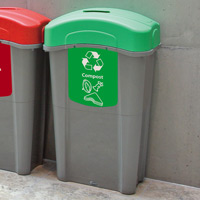 For any wrapping paper that is unsalvageable, why not find an alternative use for it?
If you have any small pets at home, shredded gift wrap can make for a comfortable bedding choice as an alternative to straw or sawdust. Shredded paper can also be used as a substitute form of stuffing to pad out a cushion, your next delivery parcel or to give your sagging bean bag chair a boost.
If your shredded gift wrap is free of sticky tape and plastics, you could even compost it. Add it to your compost heap where it can be broken down by the soil and used as a fertilizer, or pop it in a compost recycling bin.
Tip: Don't throw away your paper waste! Keep it for reuse next year or repurpose it as stuffing or compost.
For information on the range of recycling containers that Glasdon offer to combat your gift wrap waste, please feel free to browse our website or contact us today!

Email us inquiries@glasdon.com | Call us Toll Free: 1-855-874-5273 | LiveChat with us on our website
Sources:
*https://corporate.hallmark.com/hallmark-news/newsroom/products/gift-wrap/christmas-gift-wrap/
**http://www.calrecycle.ca.gov/NewsRoom/2013/12Dec/22.htm
Monday, December 11, 2017