Coffee is the fuel that drives our nation. According to Gallup*, 64% of Americans drink more than one cup of coffee a day. For many people, coffee is a necessary part of their daily routine. Whether you manage a coffee shop or run a restaurant, bistro or hotel that serves coffee, it's important to consider the environmental impact of coffee.
We've spilled the (coffee) beans on our top 5 strategies to help you become a sustainable coffee server: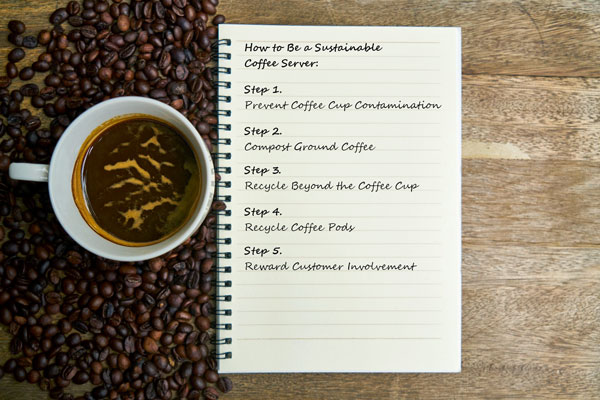 1. Prevent Coffee Cup Contamination
You may be surprised to learn that not all paper cups can be easily recycled.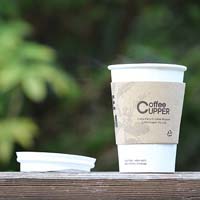 The plastic liner of disposable coffee cups cannot be widely recycled so it's important to check whether paper cups can be recycled in your municipality. Because of this plastic-coating, it's likely that your coffee cups will be sent to landfill, even when consumers try to responsibly recycle their used coffee cup.
To prevent your coffee cups from contaminating other recyclable waste, make sure you have coffee cup recycling bins in place. These will allow you to collect coffee cups in a designated container to protect other recyclable materials from contamination. Most of our cup recycling bins feature a liquid reservoir so customers can also pour away any leftover coffee before placing their cup in the bin provided.
Top tip: Check that your local Material Recovery Facility recycles paper cups. Whilst they aren't widely recycling, some MRFs are able to process and recycle paper cups.
2. Compost Ground Coffee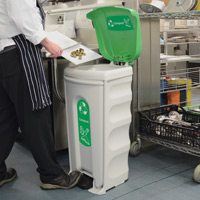 Give your coffee grounds a new lease of life by composting. Used coffee grounds are nitrogen-rich, making them perfect for compost. Divert your coffee grounds from landfill by collecting them in a designated compost container. You can then organize for your waste hauler to collect the organic waste for it to be turned to renewable energy or compost.
Better yet, why not personalize one of our Nexus® Shuttle recycling containers to collect ground coffee beans? You could then package up your used coffee grounds and allow customers to help themselves to free grounds for their garden.
Top tip: Create free coffee ground parcels for customers to take home to use for home-composting!
3. Recycle Beyond the Coffee Cup
We've already established that you can find ways to be more sustainable when serving coffee, but what about everything else?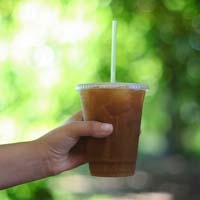 The empty milk cartons, syrup bottles and cardboard boxes can all be recycled. We recommend using a mixed beverage recycling container to collect plastic bottles, cartons and glass in the kitchen or back-of-house areas. If you prepare and serve food on site, then make sure you collect any leftovers or food scraps in an organic waste container so it can be recycled for composting.
Most iced coffee cups are made from plastic #5 (polypropylene) so it may be a good idea to set up a recycling station to provide sit-in customers with the opportunity to recycle their used iced coffee cups.
You could create a recycling station to collect a combination of recyclable and non-recyclable materials including coffee cups (so they don't contaminate other recyclables!), plastic bottles, organic waste and trash for anything that can't be recycled.
Top tip: Create a recycling station to improve recycling rates for all materials and become one step closer to 'zero-waste'.
4. Recycle Coffee Pods
Single-serve coffee pod machines, like Keurig, have become increasingly popular in recent years. They provide coffee at the touch of a button, making them an ideal choice for hotel rooms, lobby areas or small bistros.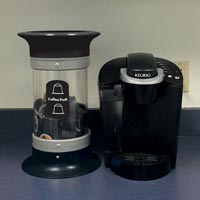 However, the question of 'Are coffee pods recyclable?' has been a hot topic amongst consumers, businesses and environmental advocates. Thankfully, many coffee pods on sale today are recyclable. In 2016, Keurig created recyclable K-Cup pods and many other coffee brands also developed their own eco-friendly coffee pods.
If you sell or serve coffee pods then make sure you source them from sustainable companies to improve your environmental footprint. Wolfgang Puck Coffee are one coffee company who are proud to offer zero-wasted coffee pods and are always striving for new ways to be sustainable.
Our C-Thru™ 5Q coffee pod collection tube is ideal for collecting used coffee pods in hotel rooms, self-serve restaurants or lobbies. Its small design means it can be placed on the counter-top next to the coffee machine to encourage users to recycle their used coffee pod once their coffee has brewed.
Top tip: Designated coffee pod collection tubes like the C-Thru range are ideal for encouraging employees and guests to recycle their used K-cup pods.
5. Reward Customer Involvement
Changing consumer behaviors can be tricky. Customers know recycling is important yet that doesn't mean they always do it. Recyclebank have been successful in positively changing consumer behaviors towards recycling through education and incentive. So, why not think about ways you can motivate and reward your customers for recycling in-store?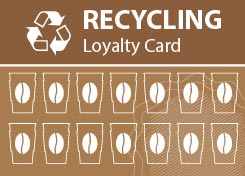 Educating customers about the reasons to recycle will motivate recycling behaviors. Display interesting facts about the effects of recycling on colorful, eye-catching posters above your recycling station to remind customers of the importance of recycling. You could even extend these facts to your social media profiles to proudly tell your social media followers about your recycling goals and achievements so far.
Everybody likes to be rewarded. Offer customer incentives for following the 3 Rs – reuse, recycle, reduce. Maybe you could offer customers a 25 cent discount for bringing their own reusable coffee tumbler. Alternatively, you could create a bring-back scheme, offering customers a free drink for every 14 disposable coffee cups they return.
There's a wide range of incentives you could create to make recycling fun for customers whilst reminding them that you take sustainability seriously.
Top tip: Keep customers happy and motivated by rewarding customer recycling behaviors and involving them in your sustainability goals!
If you would like to find out more about recycling solutions for your business, we can help. Contact us today or talk to us on LiveChat now to find out more.
Source:
*
http://news.gallup.com/poll/184388/americans-coffee-consumption-steady-few-cut-back.aspx
Thursday, September 28, 2017