Texas College is an accredited and historic college in Tyler, Texas. The College was founded in 1894 and provides education to approximately 900 students, offering an extensive range of degree programs. The College were looking for a number of stylish trash cans to complement their newly opened student dormitory located on campus.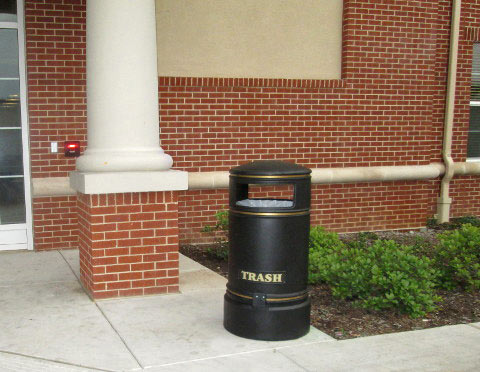 Topsy Jubilee™ Trash Can outside dormitory entrance/exit
The College is undergoing many expansions in its living-learning environments for the benefits of its students and staff. One of the initial major developments is the construction of the new student residential halls where our Topsy Jubilee™ Trash Cans were chosen to be placed outside the building's entry/exit points. The trash cans feature a traditional design that complements the campus perfectly and encourages students to dispose of their trash responsibly.
Our customer said: "Thank you again they are beautiful. We are very pleased with the quality and reliability of your product and will be using your company again in the future."
We're happy that Texas College are pleased with their trash cans.
For more information about our Outdoor Trash Cans, please contact us today!
Drop us a message here
Call us toll free
Speak to us on Live Chat
Wednesday, August 31, 2016