Pennsylvania and Virginia-based retailer, Sharp Shopper, is a grocery outlet, which has recently opened its ninth store, located at Point Plaza, Butler. Specializing in the sale of closeouts from the grocery industry, Sharp Shopper's inventory is constantly changing, providing customers with a variety of choice and adding a 'treasure hunt' dimension to their shopping.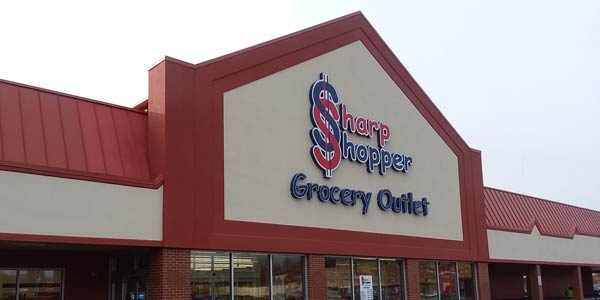 Within their organization, Sharp Shopper endeavors to:

Supply great quality products to customers at low prices
Offer an excellent standard of customer service
Provide customers and employees with a clean, safe and friendly environment
To help fulfill these statements, adhere to customer needs and benefit the environment, Sharp Shopper decided to site indoor recycling bins within their Point Plaza branch. With a staggering 380 billion* plastic bags and wraps being used each year in the U.S, Sharp Shopper chose to use their recycling containers to promote a plastic bag recycling program.
Promoting plastic bag recycling within high traffic areas such as supermarkets and grocery stores, can help to encourage customers to properly dispose of their plastic waste, keeping it from entering landfills and wider environments such as our oceans.
Find out more on how to reduce plastic bag waste.
With a minimized risk of cross contamination being a key priority for Sharp Shopper, our Nexus® 36G Plastic Bag Recycling Bin was selected as the ideal recycling solution.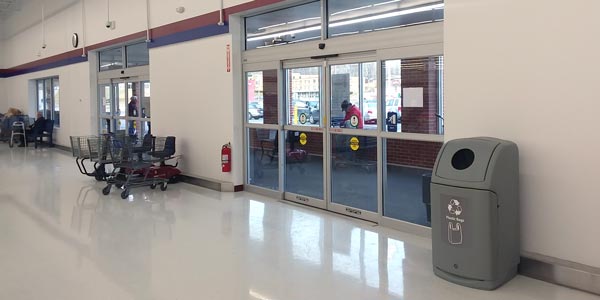 Part of the Nexus 36G recycling range, the Nexus 36G Plastic Bag Recycling Bin is perfect for areas where a high capacity container is required, whilst maintaining a modern and stylish appearance. The large 36-gallon capacity ensures that a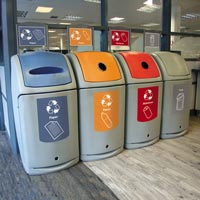 high volume of plastic film waste can be collected, without the risk of overflowing.
The large decal on the front of the bin allows users to correctly identify the waste stream being collected and deposit their waste accordingly. This provides a single-stream, recycling solution, reducing the risk of cross contamination from multiple waste streams.
Sharp Shopper chose to station their Nexus 36G Plastic Bag Recycling Bin by the store's exit, in order to encourage customers and employees alike to deposit any plastic bag waste upon entering and leaving the premises. Alternatively, the Nexus 36G Recycling Containers can be sited side-by-side to form a recycling station.
Our recycling containers offer room for personalization in order to adapt your chosen bin to its environment. You can add a company logo, message or branding, as well as custom decals to further enhance your chosen container.



Dedicated aperture for waste disposal
Large 36-gallon capacity
Color-coded aperture panels and recognizable decals
Removable door
Can be sited side-by-side to form a recycling station
Features a Sack Retention System
Ideal for internal or external use
Made from weather and vandal resistant Durapol™
Areas for personalization

For more information on the indoor recycling containers that we offer, please feel free to browse our website or contact us today!
Email us inquiries@glasdon.com | Call us Toll Free on 1-855-874-5273 | LiveChat with us on our website
Source:
*https://blog.epa.gov/blog/2016/11/confronting-plastic-pollution-one-bag-at-a-time/
Friday, February 23, 2018