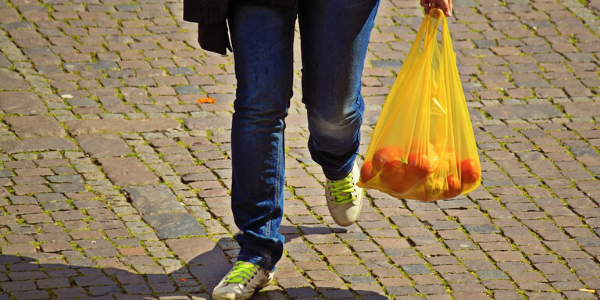 Are you prepared for the New York State Bag Waste Reduction Act, affecting all areas in New York State, from March 1?
We've compiled a handy breakdown of all you need to know in order to be fully prepared for this new law, as well as outlining why action was taken in the first place. Take a look below:
Why does NYS need to reduce plastic bag consumption?
New York State is home to near 20 million people, and, last year, New York City alone attracted a further 65.2 million visitors.
With so many people visiting grocery stores, shopping malls and tourist attractions across the state, it comes as no surprise that a huge amount of plastic bags are consumed. It's estimated that some 23 billion plastic bags are used across NYS each year, with many of those bags being used just once.
Plastic bags, which are ubiquitous in modern life, can take anywhere from 10 - 1,000 years to decompose. During this time, discarded plastic bags and plastic film pose significant risks to wildlife and the environment.
And what's the most frustrating thing about this? Single-use plastic bags are completely unnecessary! Bringing your own re-usable bags to stores can help prevent this problem, and requires minimal effort.
Who does the new law affect?
The March 1 implementation of a new bag waste reduction law will ban distribution of plastic carryout bags by anyone who is required to collect New York State sales tax. This law will also affect; bag manufacturers, consumers, cities and counties.
For any sales which are recorded as tax-exempt, the distribution of plastic bags is still prohibited by anyone required to collect New York State sales tax, the only exception will be from bags which are exempt. Under the new law:
A five cent paper carry-out bag reduction fee will be charged for each paper carryout bag provided at checkout. Some exceptions to this fee will apply, such as those who operate under SNAP (Supplemental Nutrition Assistance Program) and WIC (Women, Infants and Children – also a nutrition focused program)
Locations which will operate under the NYS Plastic Bag Reduction, Reuse and Recycling Act will still need to collect plastic bags and plastic films from consumers, ready to be actively recycled
So how can you set up an effective plastic bag/film recycling program?
There are many, simple, steps retailers can take in order to create an efficient and effective plastic bag/film recycling program, take a look below:
Access and convenience is key: Make sure you place recycling containers in areas which are easy to access for customers. Store entrances/exits are ideal locations, or if this isn't possible, make sure the locations of your plastic bag recycling containers are clearly signposted.

Clearly identify the intended use of your container: By utilizing clear decals on the front of your plastic/film recycling containers, you can reassure customers exactly what the bin's intended use is, and prevent the risk of any cross contamination.

Transparent recycling containers: See-through containers are another great way to help reduce the risk of cross-contamination. This will also help enable better quality control, and monitor exactly when the container may need emptying.

Train your employees: Knowledge is key when it comes to successfully implementing an effective plastic bag/film recycling program. Make sure your employees are aware of the new law, and your store recycling protocol. Why not have them point out the availability of your recycling infrastructure to customers, too?

Our range of plastic bag and film recycling containers are here to help when it comes to implementing your recycling program.
Our range includes transparent recycling containers, available in both 48 gallon, and 50 gallon capacities, and are specially designed for the collection of plastic bags and film, whilst simultaneously allowing for the full inspection of the contents inside.
We also offer the option to customize our existing recycling containers into dedicated units for the collection of used plastic bags and film, speak to our team of experts today for more information, or see how we helped boost plastic bag and film recycling rates in York County.

If you'd like any more information on how our products can help ensure you comply with the new legislation, why not: Email us inquiries@glasdon.com | Call us Toll Free on 1-855-874-5273 | LiveChat with us at the bottom of this page?
Sources:

: https://www.census.gov/glossary/#term_Populationestimates
https://www.thejakartapost.com/travel/2019/01/17/new-york-breaks-tourism-record-in-2018.html
https://www.thebalancesmb.com/how-long-does-it-take-garbage-to-decompose-2878033
Monday, February 10, 2020