It's no secret that plastic bag waste is damaging to the environment, especially marine life. But what's the solution? Some states are banning plastic bags, whilst others are encouraging retailers and consumers to look towards alternatives such as paper or reusable bags.
Yet these alternatives come with their own downfalls. There is a lack of research to support that banning plastic bags is financially beneficial*, meanwhile paper bags have a higher carbon footprint** and reusable bags require high levels of water to produce and often aren't recyclable.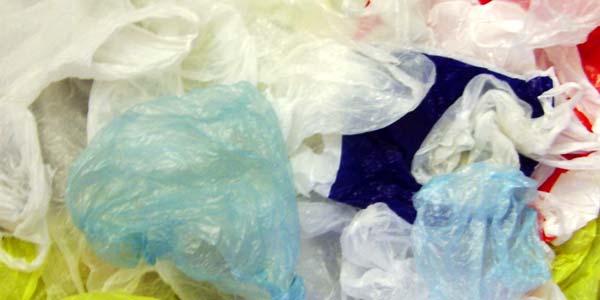 So, what about recycling?
Whilst as a nation we may still be figuring out what the best solution is to plastic bag waste, you can take comfort in knowing that plastic bags are recyclable.
Grocery bags are typically made of number 2 plastic (high-density polyethylene or HDPE for short) or number 4 plastic (low-density polyethylene or LDPE). Although this type of plastic often isn't accepted by curbside recycling programs, it is recyclable.
It's estimated that over 100 billion plastic bags are used every day in the United States***. Banning plastic bags might reduce the production of even more plastic film waste but what about all of the plastic bags that already exist? Improving plastic bag recycling will help eliminate litter for the grocery bags that already exist in our environment.
Why should we increase plastic bag recycling?
There are many benefits to recycling grocery bags and plastic film:
Recycling plastic bags minimizes the risk of them ending up as marine debris, where they can be damaging to marine life
Most plastic bags aren't biodegradable, meaning they can take hundreds of years to disintegrate – recycling removes grocery bags from landfill and gives them a new lease of life
Recycling plastic bags contributes towards a circular economy – grocery bags can be reprocessed into new bags or can be used by companies like Trex to create new plastic materials
Virgin plastic bags are manufactured from polyethylene, a material derived from oil. Recycling plastic bags and using recycled materials will help protect this finite natural resource from further depletion
How can I encourage people to recycle plastic bags?
Plastic film and grocery bags often cannot be accepted by curbside recycling programs due to processing restrictions at the Material Recovery Facilities used by cities and towns. However, they can be conveniently recycled through grocery store take-back programs.
Many retailers, including grocery, convenience and home improvement stores, provide plastic film collection bins to allow customers to recycle their plastic bags when visiting. These collection containers can be used to recycle a variety of clean, dry plastic films.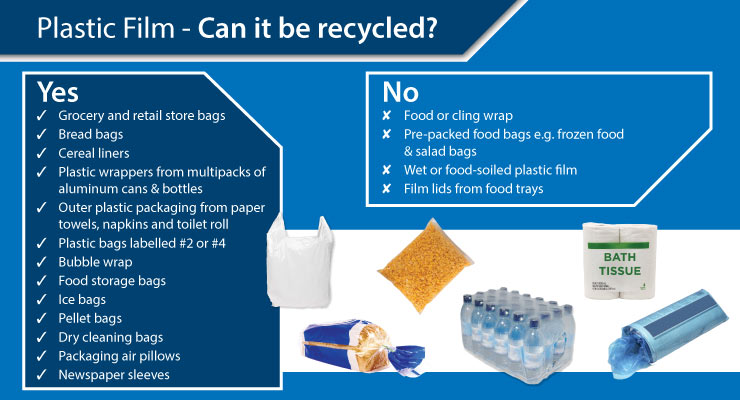 Setting up a plastic film recycling station outside of your store will make recycling plastic bags an easy and convenient tasks for your customers. The average consumer makes 1.5 shopping trips to a grocery store every week****. So that's an impressive 78 opportunities a year for each customer to recycle their unused plastic bags, saving them from landfill or worse, from littering our roadsides and waterways.
If you aren't a retailer, why not speak to your local store to encourage them to consider creating a plastic bag recycling station or look to set one up yourself through a voluntary community program?
You can then generate awareness about your plastic bag recycling program through various marketing channels.
You can also send out customer e-newsletters to increase customer awareness for your recycling program or generate interest through social media. Billboard and TV advertising campaigns could also be a great way to reach a wider audience and get people talking about your plastic bag recycling program.
What recycling container should I use for plastic bags?
The C-Thru™ 50G plastic bag recycling bin is a great choice. Alternatively, the retailer Food Lion personalized Nexus® City 64Gs to create a unique recycling station for their customers.
Food Lion wanted to provide their local community with somewhere they can easily recycle plastic film and other common recycled materials. Large enough to house a 36 gallon wheeled liner, the Nexus City 64G was an ideal choice for creating a front-of-store recycling station. The large and bright recycling decals allow passersby to easily identify the accepted recycling streams and a large personalized magnetic board helped create a visible recycling station whilst strengthening their sustainability message.

Features and Benefits of the Nexus® City 64G Recycling Container: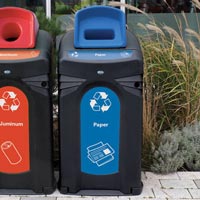 Houses a 64 gallon bag holder system or 36 gallon wheeled liner
Large, visible recycling decals to promote correct use
Robust and secure 5-point interlocking slam-shut door
Features a base ramp for easy removal of a wheeled container
Can be personalized with your company logo, message or colors
Easy to clean
Suitable for internal or external use, C-Thru 50G has a transparent body to allow the contents to be easily seen and reduce the risk of cross-contamination. The large capacity means it can hold hundreds of plastic bags, allowing you to collect a large volume of plastic film ready to be recycled.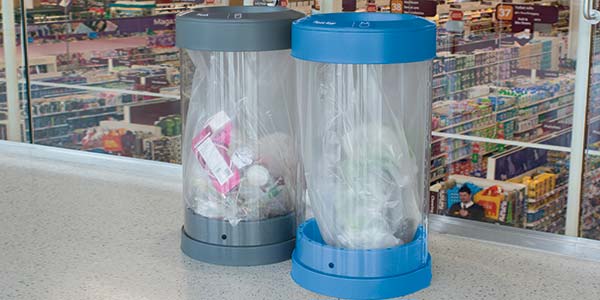 The C-Thru 50G, and many other Glasdon products, can be personalized with your store logo, colors or recycling message. Our C-Thru recycling containers are often used in collaboration with Trex, where customers can personalize the recycling container with a Trex recycling decal.
Features and Benefits of the C-Thru™ 50G Recycling Container: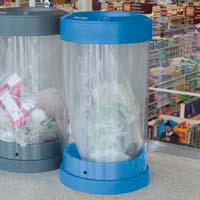 Features a large capacity
Transparent body allows contents to be seen
Available in several waste streams
Can be personalized with your company logo, message or colors
Suitable for outdoor or indoor use
Easy to clean
What happens when you recycle plastic bags?
Recycled plastic bags can be reprocessed into new plastic bags. This is a far more efficient and environmentally-friendly process than creating brand new plastic bags which uses material derived from natural resources.
They can also be collected by various companies, who will then repurpose the plastic bags to create composite lumber. We are proud to say that our C-Thru recycling containers are often used in partnership with Trex to create new recycled material products.
Trex use recycled plastics to manufacture low-maintenance, long-lasting and earth-friendly decking and railings. Through their innovative manufacturing process, Trex are able to reduce waste, encourage recycling and reuse recycled materials to contribute to a circular economy.
Did you know that some recycled plastic bags may also end up being repurposed for nanotechnology? Scientists at the University of Adelaide have developed a way to recycle plastic bags for use in biomedical innovations!
To find out more about how you can start recycling plastic bags or discover our range of products for retail – please drop us an email or speak to us on LiveChat today!
Sources:
*http://www.ncpa.org/pdfs/st353.pdf
**http://www.gov.scot/Resource/Doc/57346/0016899.pdf
***http://plasticbaglaws.org/wordpress/wp-content/uploads/2010/04/Romer-Tamminen_Tulane-ELJ-article-on-NYC-bag-bill5.pdf
****https://www.statista.com/statistics/251728/weekly-number-of-us-grocery-shopping-trips-per-household
Wednesday, November 1, 2017