New York City is one step closer to its "Zero Waste" goal after the introduction of the new commercial recycling rules. The policy went into effect in July and requires all New York City businesses to separate paper, metal, glass and plastic containers from refuse. Large food generators are also required to compost their organic waste.
"All businesses in NYC are required to recycle metal, glass, plastic, beverage cartons, paper and cardboard. Certain businesses are required to recycle other items depending on their size and type."
What's changed?
ALL commercial businesses must separate ALL recyclables

These new rules eliminate the distinction between businesses types, meaning all businesses are following the same recycling procedure.

Rigid plastics are now accepted

Rigid plastics were once only included in curbside recycling but have now been expanded to everywhere in these new rules.

You must provide visible signage & labels on your containers stating what is being collected

This will make it easier for users to participate with recycling efforts

If you generate a significant amount of organic waste, it must be composted.

Large producers include hotels, restaurants and convention centers
What to recycle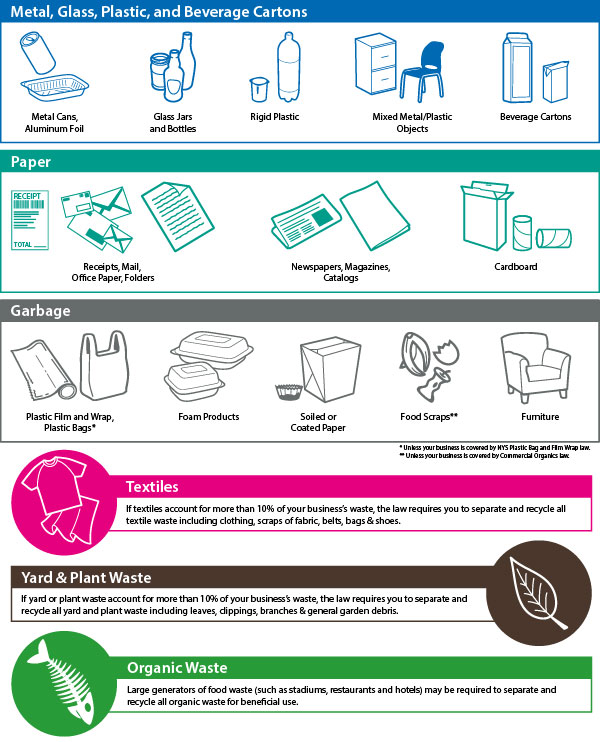 The city hopes that these rules will facilitate greater recycling participation and make recycling easier for the business community in New York City. This will also play a crucial role in protecting our environment as well as reduce your business' carbon footprint and also increase your competitive edge.
These rules are effective now but you have until August 2017 to comply. Don't wait and be at risk of getting fined - implement a program today! We have everything you need you need to comply. We can also add additional signage to indicate that you're recycling for the NYC bottle bill refund program.
P.S Remember, where there is a recycling bin, there should also be a trash can!
Thursday, August 11, 2016