Chesterfield County's Annual Environmental Fair was yet another success this year along with our Splash™ Novelty Trash Can also being a huge hit! The fair aims to generate interest and commitment to enhancing the local community and includes exciting musical performances, workshops and entertainment.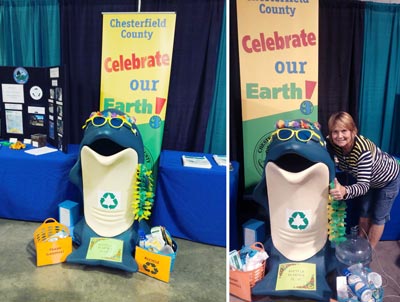 Splash™ Novelty Trash Can at Chesterfield County Environmental Fair
The fair gives Chesterfield County the opportunity to display their environmental success and commitment to the community. Splash was used as a fun, teaching tool to help educate citizens of the importance of protecting the local community. Visitors were able to take pictures with Splash which were then shared on social media to help spread awareness of the County's environmental efforts and importance of disposing of litter correctly.
Pam Cooper of the Anti-Litter Program with Chesterfield County said "The quality of your product is superior. I also applaud your company for excellent customer service! I hope to purchase more of your products in the near future."
If you'd like to learn more about our popular Animal Shaped Trash Cans, please drop us a message.
Alternatively, speak to one of our friendly experts on Live Chat or call us toll-free on 855-874-5273