The Miami Foundation's Public Space Challenge 2016 uncovers the best ideas for creating, improving and activating parks, plazas and local gathering places. Among the 2016 grant winners was Noah LaFleur, a 13 year old environment enthusiast who aims to reduce litter and promote environmentally-friendly habits among his community.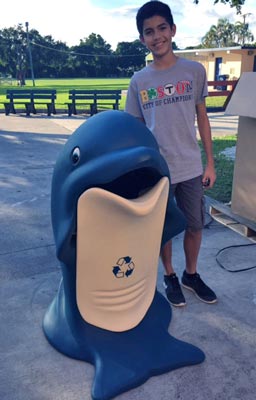 The Noah's A.R.C (animal recycling containers) project was created to address the lack of recycling containers found in local parks. The vision involves providing different animal-shaped recycling bins for plastic, paper and glass in parks across Miami Dade.
Noah chose a number of our Splash™ Trash Cans to help support his recycling project. The fun animal-shaped design of the receptacle is especially popular among younger children and encourages them to participate - which is a main objective of Noah's plan.
Noah said: "We received the dolphin bins today! They surpassed my expectations. Definitely very cool."
The dolphin recycle bins are placed throughout 3 different parks around Cutler Bay to help promote and educate the importance of a community taking care of its surrounding environment.
We were happy we could help to bring Noah's environmental awareness project to life.
For more information on our , please contact us today.
Tuesday, February 7, 2017