Nantasket Beach is a popular summer destination and is one of many coastal reservations in the town of Hull, Massachusetts. The beach encompasses 26 acres along one and a third miles of clear oceanfront.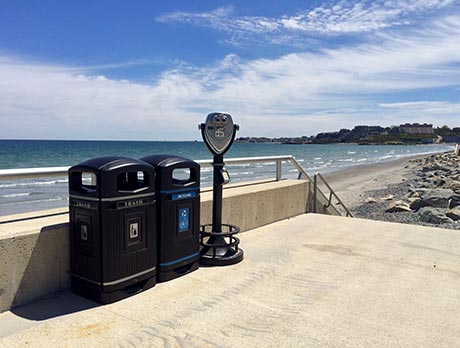 Glasdon Jubilee™ 29G Trash Container & Mixed Recycling Bin
With surrounding hotels, amusement areas and restaurants, the reservation attracts many visitors annually which inevitably generates large volumes of both trash and recyclable material. To help keep the beach tidy, a number of our Glasdon Jubilee™ 29G Trash Containers and Glasdon Jubilee™ 29G Recycling Bins were chosen to encourage the segregation of any visitor waste. These units are especially suitable for public spaces - such as beaches - as they provide the large capacity that is often required in high footfall areas. The choice to provide a coordinating trash can alongside the recycling bin helps to mitigate the risk of cross-contamination and provides visitors with the opportunity to dispose of all types of material whilst visiting the beach.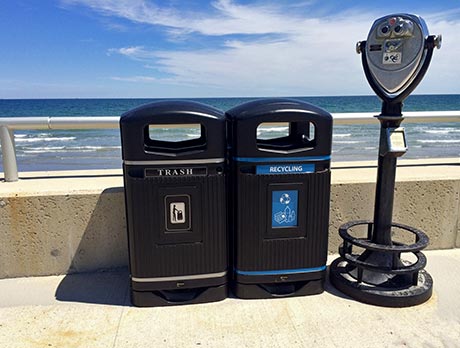 Bright and clear decals prompt users to utilize the units
The units displays colorful and highly visible decals to reduce any confusion and ensure that recycling waste is as convenient as possible for the user. We were happy we could help to keep the Nantasket Beach Reservation beautiful for visitors and Massachusetts.
Design features of Glasdon Jubilee™ 29G Trash Container & Glasdon Jubilee™ 29G Mixed Recycling Bin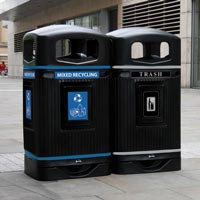 Large capacity – ideal for public spaces
Colorful decals
Keyed lock
Personalize with company logo
Choice of decals
Constructed from hard-wearing Durapol™
If you'd like to learn more about our outside trash cans or outdoor recycling bins – contact us today!
Call us toll free 1-855- 874-5273
Email us inquiries@glasdon.com
Live chat with us on our website