Create a highly visible, protective station for your life buoy ring or torpedo buoy with a Guardian™ Life Ring Cabinet.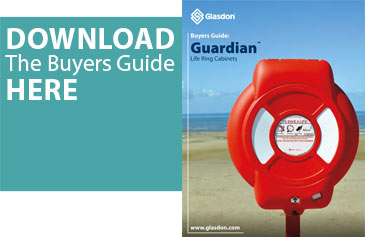 Manufactured with tough Durapol™ polymer, Guardian Life Ring Cabinets are designed with features that deter thieves and vandals, while protecting the life-saving equipment inside from UV rays which can degrade its material over time.
In the event of an emergency in the water, access to a life preserver ring or other PFD with an attached floating throwing line is critical.
For increased visibility, Guardian Life Ring Cabinets are available in bright red and white or yellow and white to create an obvious contrast in color.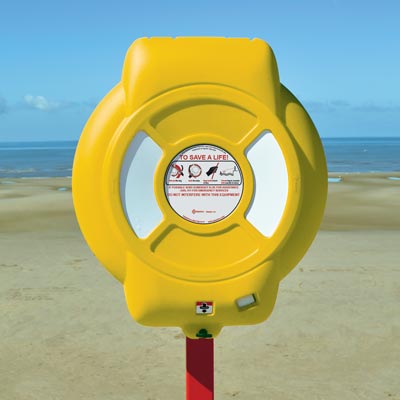 Designed for USCG Approved Ring Buoys
The size of life buoy ring you require may also depend on your own industry's guidelines and regulations.
Guardian Life Ring Cabinets are available in two models to store the United States Coast Guard approved 24 inch and 30-inch diameter life rings.
Attractively molded to the shape of a ring buoy, these ring buoy cabinets can be securely mounted to a wall, railing or on to a post to create an easily recognizable ring buoy station.
These cabinets also offer the flexibility to store different types of throwable lifesaving devices and have been specially designed with a universal fit to house life rings or torpedo buoys made by different manufacturers.
Built-in Safety and Inspection Features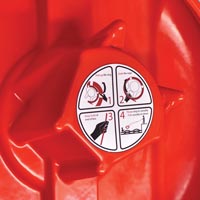 To increase the speed and ease of deploying the life preserver ring and rope, Glasdon life ring cabinets include the Ropemaster™ Quick Release Rope Management System as standard. The system accepts a rope up to 164' long.
During install or when replacing the life ring, the rope is wound tightly around the central device guided by the molded-in rope and buoy retention tabs. The ring buoy is then placed over the retention tabs and pressed to sit compactly around the rope.
On deployment, the built-in 'grab handle' recess allows the rope to be gripped with one hand and removed from the device in a neat loop, leaving the other hand free to take and throw the life preserver ring toward the victim.
Easy to understand, step-by-step instructions with images show the user how to remove the ring buoy and rope quickly.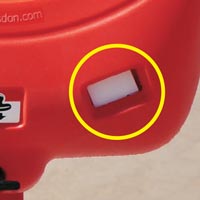 Guardian Life Ring Cabinets also feature an inspection indicator built in to aid quick and easy inspection. The white indicator appears in the window when the cabinet door has been opened.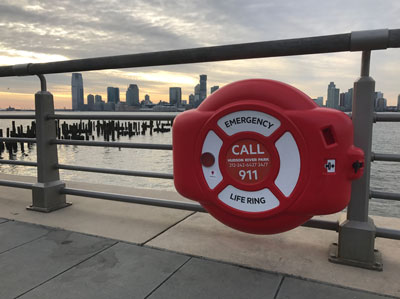 High Profile Guardians
Read more about how Guardian Life Ring Cabinets are helping to protect life rings along the Hudson River in the City that Never Sleeps.
Alternatively, learn more about how Glasdon have helped to maintain safety standards at a Water Treatment Plant in Florida.
Optional Extras
Guardian Life Ring Cabinets are available with or without a 24" or 30" life ring and 100' (30m) floating throwing line.
Fixing kits are available for wall and rail mounting the cabinet. To create a safety station, mount the ring buoy cabinet to an Armortec™ coated steel pole or locally sourced 4x4 wooden post which can be fixed to the ground surface or set in concrete below ground.
Add an inspection window into the front of the cabinet to easily view the contents inside without disturbing the door.
When mounted on a post, a lid stay can be added to securely prop the lid open during inspection.
Additional instruction and notice decals can be created and added to the exterior of the cabinet door to inform the public and operators about how the equipment should be used, whilst warning of the penalties for misuse or vandalism.
Alarm Holder available to purchase includes stainless steel bracket for fixing a theft or anti-tampering alarm to the cabinet. (Alarm not included).
Customers can also display their branding or water safety campaign messages.
Talk to us today about how Guardian Life Ring Cabinets can help you keep lifesaving devices safe and ready for action in the event of an emergency in the water.
Alternatively, download our Buyers Guide for step-by-step help in specifying your Guardian order.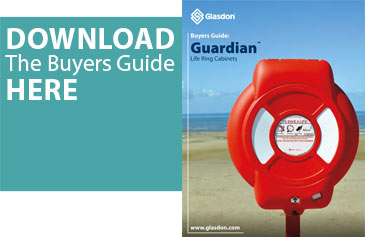 Originally posted: 09.10.18.