The East Central Regional Water Reclamation Facility, operated by West Palm Beach, is a water treatment plant located in Florida. The facility proudly serves the City of West Palm Beach, the City of Lake Worth, the City of Riviera Beach, the Town of Palm Beach, and Palm Beach County. We were pleased to collaborate with the plant to help them implement additional life-saving equipment and improve the safety of their employees.
Due to a number of open sewage tanks present at the facility, it is necessary to practice stringent worker safety policies should an accident take place. These policies are regularly reviewed by the plant's manager and after consideration, it was decided that 55 of our Guardian™ 30 Life Ring Cabinets would be a positive addition to the plant. These housings are extremely suitable for the plant due to their ability to withstand corrosive and harsh environments, commonly found in water tanks.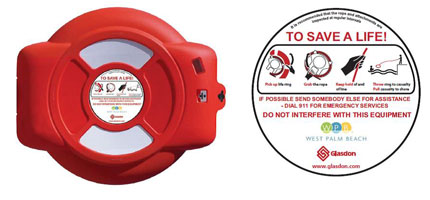 Custom graphics designed by The East Central Regional Water Reclamation Facility.
The housings were rail mounted, providing a clear and noticeable safety point for the storing of the life ring devices. The plant also took advantage of our personalization service which allowed them to incorporate a custom message on the cabinet, instructing users of the correct measures to take if an emergency should happen.
Design features of the Guardian™ 30 Life Ring Cabinets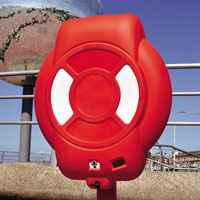 Manufactured with Durapol™, a corrosion-resistant material
Ropemaster™, a quick release system
Minimal maintenance
Usage and interference indicator
Weather resistant
Ideal for beaches, lakes & rivers
If you'd like to learn more about our life ring cabinets, we'd love to hear from you.
Email us inquiries@glasdon.com
Use our live chat facility on our website
Give us a call 1-855-874-5273