Trex Company Inc. is the world's largest manufacturer of high-performance wood-alternative decking and railing. They have established an impressive portfolio of outdoor living products including LED deck and landscape lighting, outdoor furniture, framing and drainage systems. We were happy to work with Trex Company in order to encourage users to recycle their plastic film.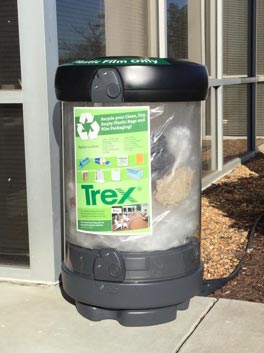 C-Thru™ Plastic Film Recycling Bin with custom Trex Company graphics
Being a company that combines the durability of recycled plastic with reclaimed wood, Trex Company were able to identify a great opportunity to collect unwanted plastic bags and film whilst encouraging the public to recycle their waste. We were able to supply a number of our C-Thru™ Plastic Film Recycling Bins which Trex Company personalized with custom decals, stickers and colors.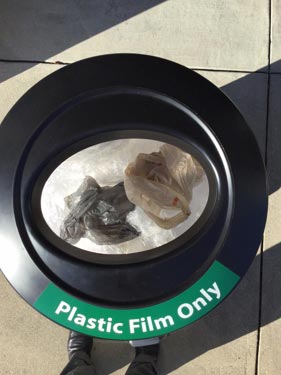 Custom decals for Trex Company's non-standard waste stream
C-Thru™ Plastic Film Recycling Bins were an ideal choice for Trex Company as they provide a clear polycarbonate body which, along with custom signage, means that the waste stream can easily be recognized by passing users. This will help to encourage the disposal of any unwanted plastic bags, which will then be recycled by Trex Company and made into exciting new products.
Design features of the C-Thru™ Plastic Film Recycling Bins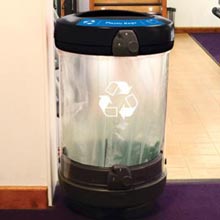 Features a large capacity
Clear body allows contents to be seen
Keyed lock
Available in several waste streams
Personalize with your company logo, message and colors
If you're interested in our C-Thru™ Plastic Film Recycling Bin or any of our outdoor recycling containers, we'd love to hear from you.
Email us inquiries@glasdon.com
Use our live chat facility on our website
Give us a call 1-855-874-5273