According to the Environmental Protection Agency, more food is sent to landfill than any other type of municipal solid waste. Further research suggests that 25-40 percent of food grown, processed and transported in the United States will never be consumed*.
But why? Although throwing food in the trash seems like an easy option, diverting that waste from landfill can generate economic, social and environmental benefits.
Commercial food waste bans are giving us all some food for thought as they sweep across the country at both a state and city level.
What is organic waste?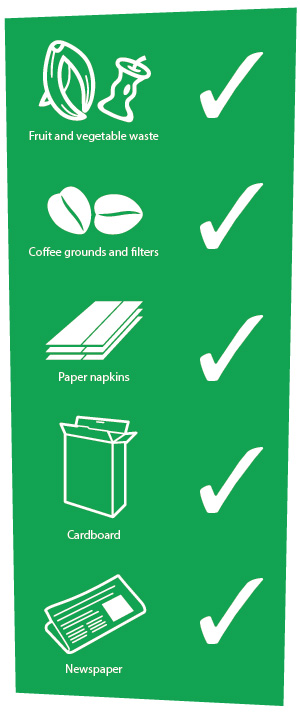 Food Scraps
Plant Trimmings
Food-Soiled Paper Items (napkins, cardboard, newspaper, etc.)
Certified Compostable Products
Many states including Connecticut, Massachusetts, Rhode Island, Vermont and California have instigated specific business food waste laws. Similarly, we've seen cities such as Austin, Portland, San Francisco, Seattle, and more recently New York City all implement city-level commercial laws to reduce organic waste.
Whether your business resides in a city with food waste regulations or not, it is still beneficial to follow food waste reduction practices.
Here's how you can minimize commercial food waste and harvest the economic, social and environmental benefits for your business...
Diverting food waste from landfill can be a simple and cost-effective switch. When looking to divert food waste from landfill, we recommend using the Prevent, Recover and Recycle rule, which has been analyzed by the 2016 ReFED report:
Prevent
- Stop food waste from occurring in the first place
Recover
- Redistribute food to other people
Recycle
- Repurpose food waste as energy or compost
Preventing Food Waste
When it comes to reducing commercial food waste, you first need to understand how much food is wasted and where this waste comes from.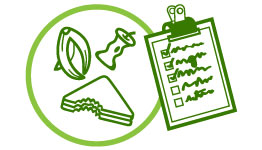 Organize a 'dumpster dive' so you can see what's currently being sent to landfill by your company. A waste assessment can be conducted at any size or type of facility from offices, to retail stores, to restaurants and manufacturers! Once you are aware of how much material is being discarded, you can then measure progress over time. You can also use this data to investigate areas to reduce or avoid food waste generation.
This basic understanding of how food waste is generated in your company will allow you to implement preventative solutions to tackle food waste before it even reaches consumers plates.
At a manufacturer and retailer level, food waste prevention solutions include standardized labelling and packaging adjustments. Using standardized labelling with clear instructions and recognizable use-by dates can help reduce consumer confusion.
As a manufacturer, simple packaging adjustments can be made to optimize food packaging and avoid food waste. Using intelligent packaging will prolong freshness and minimize spoilage of leafy greens and other perishable fruit, vegetables and meat.
Restaurants and food service providers are one of the largest industries to produce food waste. Yet there are many food waste prevention solutions that can be put in place to reduce the amount of food waste sent to landfill. We investigated and shared our top tips for reducing restaurant food waste in our 'Tackling Food Waste in Restaurants' article.
Here are some of our top preventative food waste solutions for restaurants or businesses with employee canteens:
Imperfect Produce
Make use of 'ugly' produce instead of throwing it away
Smaller Plates
Reduce consumer waste by providing customers with smaller plates in self-serve or all-you-can-eat dining settings
As noted in the ReFed roadmap, Research suggests using smaller plates can result in an annual business profit potential of $315million a year
Tray-less Dining
Similar to smaller plates, eliminating trays in all-you-can-eat dining establishments can reduce consumer waste
The American food service company, Aramark** found removing trays resulted in a 25-30 per cent reduction in food waste per person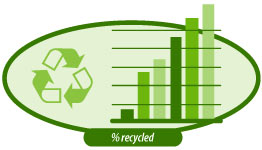 Waste Tracking
Use inventory management software to track stock levels and wasteful behaviour then use this data to make appropriate behavioral and operational changes
Education
Educate employees and consumers to raise awareness of food waste and ways to save money and reduce wasted food
Recovering Food Waste
Recovering surplus food for donation is a great way to reduce organic waste whilst giving back to the local community. The EPA's food recovery hierarchy places donating edible food, titled Feed Hungry People, at the second tier just after Source Reduction solutions.
As outlined by the CHLPI of Harvard Law School, there are also potential tax benefits for companies donating food.
Food waste recovery soultions include:
Food Donation
Many organizations, charities and farms accept food donations. This means you'll be contributing to a more sustainable environment and giving back to the community whilst reducing your levels of organic waste
If you're worried about the logistics, get in touch with your local food bank as they're often great at problem-solving and can help to come up with a solution to your barrier!
Value-added Processing
Extend the usable life of donated foods and increase its value by making soups, sauces, preserves or other value added products from left-over edible produce
Campbell's Soup partnered with the Good Bank of South Jersey, Eastern ProPak Farmers' Cooperative and Summit City Farms, to create Just Peachy Salsa – a salsa created from peaches that were too blemished or 'ugly' for sale in grocery stores. 100% of proceeds then went back to the Food Bank to help support their hunger relief programs!
Animal Feed
As well as donating food for human consumption, some surplus food can also be donated to farms, zoos and animal food producers to be used as animal feed
Recycling Food Waste

After pursuing as many prevention and recovery solutions as possible, food scraps will inevitably remain. Collecting food waste to be recycled is an easily accessible solution to organic waste for almost all businesses. So, it's important that food waste recycling is still actioned after making use of all the prevention and recovery solutions that are at your disposal.
Furthermore, prevention and recovery solutions often face barriers that can be overcome by recycling. For instance, some food scraps - such as orange rind, egg shells, and chicken bones – are largely unavoidable and cannot be prevented or recovered. However, these food scraps can be recycled!
The dedicated customization required for some prevention solutions is sometimes unattainable for certain food businesses. Waste tracking and analytics is a great way to prevent food loss. However, it can also be a timely and costly procedure as it needs to be personalized to each individual business and closely monitored.
Using all possible Prevent, Recover and Recycle solutions together will help your business get the most out of food. Some states may also provide recycling grants to help with the recycling of food waste.
There are many methods for recycling food waste. Below are three of the most common and accessible ways to recycle food waste:
Anaerobic Digestion
Anaerobic digestion (A/D) is the most widely used method of recycling food waste. Under controlled conditions, A/D converts organic waste to methane gas which is then used for electricity or to produce biogas and biofertilizer
A/D is a great way to generate renewable energy whilst also reducing Carbon Dioxide emissions
Grocery retailer, Kroger power their Ralphs/Food 4 Less distribution center in Compton using electricity generated from unsold organic goods. This allows Kroger to reduce costs, generate clean energy on-site, recycle valuable nutrients and avoid sending organic materials to landfill*
Centralized Composting
Transport organic waste to a centralized facility to be composted
When composted, food scraps and other organic waste is processed to create nutrient-rich soil
In-Vessel Composting
In-vessel composting is an ideal on-site food recycling solution for small-scale institutions or businesses
This composting method can process a large amount of waste without taking up much space
The organic materials are fed into a drum (or similar vessel), which has well-controlled temperature, moisture and airflow levels to allow compost to be produced in just a few weeks

Containers for Collecting Food Waste

When choosing an ideal container for organic waste, there are several considerations to take into account.
Firstly, it is important that food waste is source separated from other recyclable and non-recyclable trash. This will minimize the risk of cross-contamination and will ensure you are only sending quality organic waste to be recycled. Why not create a designated recycling station to help employees and customers to get involved with recycling?
Clearly annotating food waste containers with recycling labels to indicate the accepted waste stream will also help minimize the risk of contamination from other waste sources. We think brown or green are great color choices for organic waste containers!
You can also personalize your compost bin by creating a label to list what's considered as food waste so users know exactly what to put in the food waste bin.
We recommend placing food waste containers in food preparation areas and anywhere else that organic waste is likely to be generated. This increased convenience will encourage employees and consumers to recycle their food waste without a second thought.
Lining your food waste bins will help reduce odors and keep your sanitation workers happy. We suggest using clear plastic liners or compostable bags to keep your recycling bin clean when collecting food waste.
Recommended organic waste containers to collect commercial food waste:
Nexus® Shuttle

Nexus Shuttle is ideal for collecting organic waste and food scraps in kitchens and food preparation areas.
The large aperture and food pedal operation encourages the quick, easy and hygienic disposal of food waste.

Find out more
Nexus® 36G

With a large capacity, the Nexus 36G is a suitable compost bin for cafeterias and casual dining restaurants where high volumes of food waste are generated.
Nexus 36G can also be used outdoors, making it a great choice for outdoor stadiums or events with food vendors.

Find out more
Eco Nexus® 23G

This small compost recycling bin is ideal for collecting food scraps in self-serve dining areas at small hotels or other small businesses and break-rooms.

Find out more
Nexus® City 64G

The Nexus City 64G food waste recycling bin can be used to house a 36 gallon wheeled liner or 64 gallon bag holder system. This easy to clean, robust container is perfect for collecting organic waste at larger organizations such as food manufacturing facilities, restaurants and food retailers.


Find out more
Benefits of Commercial Food Waste Recycling
As earlier noted, there are economic, social and environmental benefits to reducing food waste.
The economic benefits can be advantageous for the business, their consumers and even the wider-society. Whilst there may be some up-front costs involved in the prevention, recovery and recycling of food waste, these are often outweighed by the economic value produced over time.
The social benefits of reducing organic waste include meal recovery for food-insecure individuals and the creation of more jobs. It is estimated that each processing facility generates an average of 5-10 permanent employees.
On an environmental level, reducing food waste can help with greenhouse gas emission reduction and water conservation, amongst other environmental benefits.
If you want to discuss food waste best practices or learn more about our organic waste recycling containers – get in touch with us today via email or LiveChat!
Sources:
*
http://www.foodwastealliance.org/wp-content/uploads/2013/05/2015FWRAToolkit_Web_FINAL.pdf
**
http://www.elon.edu/docs/e-web/bft/sustainability/ARAMARK%20Trayless%20Dining%20July%202008%20FINAL.pdf www.foodwastealliance.org/services
Monday, December 18, 2017