Make sure your convention center stands out from the crowd by showing your commitment to improving your waste management and recycling rates.
With a high number of visitors for each and every event, convention and conference centers can be extremely busy places. Due to having a high footfall, these events can generate a large volume of waste. By following our simple steps you can reduce waste and improve sustainability at your convention center.
6 simple steps to reducing waste at your convention center
To improve your recycling rates, you could start by identifying the key areas that generate trash. To help you to create your own waste management initiative, we've listed 6 simple steps you can take to improve waste-management at your convention center:
1. Encourage Exhibitors to Minimize Packaging Waste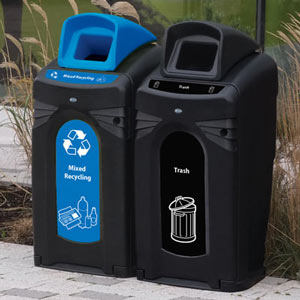 Exhibitors often use a lot of cardboard and plastic film packaging during the event set-up, throughout the event and even after the event has finished. You can make sure packaging waste created by exhibitors is minimized by having clearly sign-posted recycling stations in exhibitor areas.
We recommend creating a recycling station for packaging materials using large recycling containers such as our Nexus® City 64G.
2. Create Recycling Stations that Stand Out
Encourage visitors to dispose of their trash correctly by placing several recycling stations along the main walkways of the convention center and other high footfall areas, such as seating areas and site entrances. This will improve the ease of recycling, which in turn will inspire visitors to separate their waste and recycle responsibly.
Have a look at our range of internal recycling bins and create your own coordinated range of recycling containers for your convention center.
3. Turn Food Waste into Compost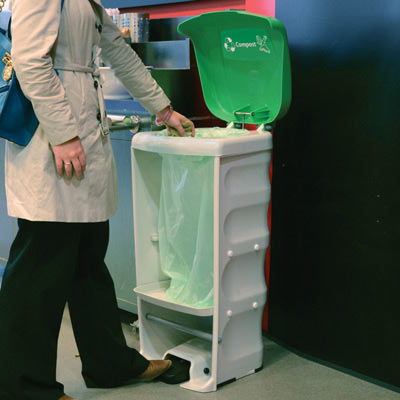 If there are going to be food stalls, eating areas or food preparation areas at your exhibition, it would be a great idea to install food waste bins in these zones. By placing food waste bins in food preparation or dining areas, you can help to divert organic waste away from landfill. Any food that is disposed of in the food waste container can then be composted, improving your ecological foot print.
We offer a variety of options for food waste containers, which are suitable for dining areas or kitchens.
4. Extinguish Cigarette Waste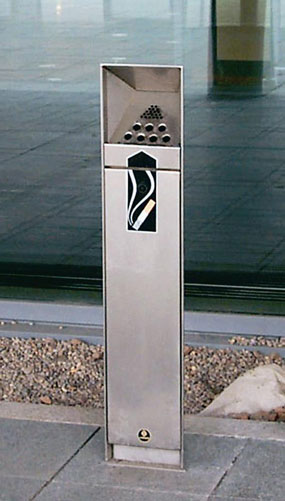 Installing cigarette receptacles outside of the convention center or in designated smoking zones will prompt users to safely dispose of their cigarette butts before entering the building. Cigarette units will not only reduce the amount of dropped cigarette waste but will also provide a safe way to dispose of cigarette butts which reduces the risk of fire.
Our wide range of cigarette units can help you to reduce the cost of clearing up cigarette butt litter.
6. Be Bold and Bright to Boost Recycling
It's important that your recycling containers are easy to identify and are highly visible, especially during a busy event! You can create a co-ordinated recycling range by using bright colored receptacles to identify different waste streams. Keeping your signage simple by using clear images and text will help visitors to dispose of their trash quickly and correctly.
You can also personalize our products with your convention center branding, colors or slogan to demonstrate your environmental awareness and positively influence your visitors.
To learn more about our products for convention centers – please speak to us on LiveChat