Here in the U.S., it's estimated that we purchase around 3 billion dry-cell batteries each year. That's enough batteries to fill 8 White Houses', or cover the entire length of the Grand Canyon (277 miles) not once, not twice, but almost three times!*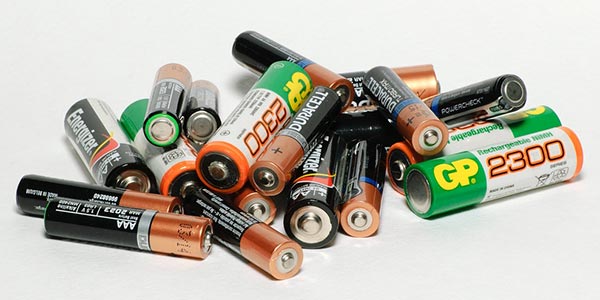 If we all diligently recycled our batteries in appropriate battery recycling containers, where they could then be used to drive job creation, the production and innovation of new products, or simply protect the environment from needless, toxic waste...this may be no terrible thing.
But unfortunately, this doesn't always happen, which means we aren't fully reaping the potential benefits of battery recycling...and this is a massive opportunity, missed.
So what's the big deal?
Unsurprisingly, the composition of batteries contains a host of toxic elements. Left in the rugged heaps of discarded household waste, batteries can release heavy metals and other hazardous substances, which can then contaminate groundwater and pollute the air.**
Furthermore, tossing batteries directly into the general trash has the potential to cause a significant fire risk. Let's use sunny California as a prime example, where in 2017, discarded lithium-ion batteries were thought to be responsible for 65% of waste facilities fires.***
Yet issues like these need not arise, here's how simple it is to fill, empty and maintain Glasdon C-Thru™ Battery Recycling Containers:
What's the solution?
Make your battery recycling containers easily accessible, and clear to understand:
We live in a contemporary world of convenience, so if you're battery recycling containers aren't easily accessible, their rates of use aren't likely to be overly high.
Place your range of battery recycling containers in a multilaterally used, 'hub' type space, such as; staff canteens, shared offices, or by the entrance/exit doors if you work in a store etc. They're much more likely to get frequent use in these types of location, whilst imposing minimal intrusion on people's day-to-day lives, a big tick towards sustainable longevity!
At Glasdon, we provide a range of personalization options which can further assist users in knowing exactly what can be placed in your battery recycling containers, as well as other information such as; fund-raising targets, measuring levels, or other design graphics you may wish to include: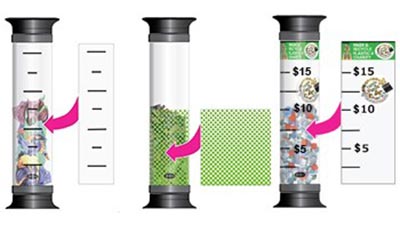 Which type of batteries can I actually recycle?
Within your household/business, the majority of single use batteries will be recyclable. This will include: AA, AAA, C and D cells
When it comes to Nickel-cadmium (NiCd) rechargeable batteries, these are considered to contain hazardous waste and as-a-result, MUST be recycled
Other non-hazardous batteries, such as Lithium Ion batteries for laptops or Nickel Metal Hydride (NiMH) can also be recycled
Button cell batteries that will be used in products such as; watches, small toys and hearing aids, contain silver and mercury. Both these materials are hazardous, but can easily be recycled*
Ensure you identify a recycling vendor to take away your used batteries:

Additionally, it's super important to find a suitable battery recycling collector/vendor for your needs. Not only will this reassure you that your batteries are being disposed of by professionals, but it can really help make the recycling process as painless as possible, too.
Take a look at Earth911's search tool, where you can locate battery recycling vendors operating in your local area.
Need some further inspiration?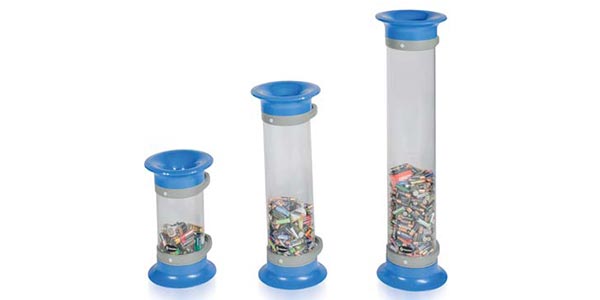 Our C-Thru 5Q, 10Q and 15Q are ideal recycling containers when collecting domestic batteries, and have proved to be a popular choice in a range of environments, including office spaces, education, retail, and grocery stores.
Here's what else they have to offer:
Battery collection tube features a transparent polycarbonate body which helps to minimize the risk of cross-contamination
Each model features a funnel top lid with narrow funnel aperture which accepts small waste deposits (e.g. domestic batteries), whilst mitigating the risk of unwanted waste being deposited
Top and bottom handles provide easy handling to pick up and empty the unit
Available in a range of sizes, to best the suit the needs of your specific requirements
Range of further options also available, including; full level indicator, optional recycling decals and easy to understand instructions, as well as an open top aperture if you wish to collect alternate waste streams
For more information on any of the products above, or our wider battery recycling container range, please contact us today.
Alternatively, why not delve deeper into exactly what benefits you could be creating from appropriately recycling your batteries by downloading our benefits of battery recycling infographic for free!

Originally Posted: 01.09.19
Sources:

*https://www.icsid.org/uncategorized/how-much-money-do-americans-spend-on-batteries-each-year/
**https://sciencing.com/environmental-problems-batteries-cause-7584347.html
***https://arstechnica.com/gadgets/2022/12/recycling-firm-fined-after-tossed-batteries-cause-garbage-truck-fires/