There's no denying it, we're a proud nation of dog lovers. Big or small, pedigree or a little rough around the edges – the U.S. is home to some 89.7 million* pooches, and that figure is only set to rise.
We all know that life with a dog brings great responsibility, and nowhere is that more evident than the act of finding eco-friendly ways to dispose of dog poop.
EPA figures tell us that our nation's dogs produce over 10 million tons of waste, each year. If you're struggling to imagine those kind of stats, that's enough dog poop to cover 1,100 football fields to a depth of 5 feet...oh, and just in-case you were wondering, that includes the dropzones!**
So what's the big problem?
Looking into those big, puppy-dog eyes may well be enough to make the heart melt, but when it comes to looking after man's best friend, it isn't all sweetness and light.
Pet waste is going to be a daily occurrence for any dog owner, and it's known to contain bacteria, viruses, parasites and undigested material – all of which has the potential to cause great harm to surrounding environments, people, and fellow four-legged friends!
So taking control of pet waste is always going to be a good idea. Here's how Glasdon's dedicated dog waste stations are here to help...
Bag it, and bin it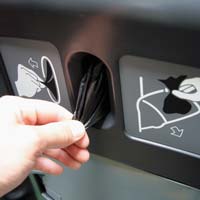 It seems pretty obvious, but take a walk around your local park, and you're likely to see that the simple act of 'bagging and binning' pet waste is all too often ignored.
Of course, life can be pretty hectic, so walking out of the door without dog poop bags to hand is easily done.
Fortunately, this is just one of the reasons where both the Retriever City™ and Fido™ pet waste station's make a whole lot of sense, as both of these pet waste stations come with a dog poop bag dispenser. A compact, and easily-accessible, bag dispenser allows users to take one bag at a time, and easily clear up after their dog...pretty neat, right?
Our pet waste stations can help tackle the problem...
We're celebrating our 60th anniversary this year at Glasdon, and over that time, we like to think we've got pretty good at understanding what our customers want when it comes to dog waste stations.
We design and manufacture pet waste receptacles which are ideal for a wide-range of environments; from sidewalks and town-centers, to bark parks and leisure sites (and everything else in-between!)
Variety is the spice of life, as the saying goes, and with options of wall, rail or post-mounted fixing options, pet waste stations from Glasdon sure live up to this mantra.
If you're looking for a larger capacity dog poop station, Retriever City is a great option. The contemporary and sleek design of this pet waste station make it the ideal choice for modern urban areas, parks and dog-parks...or to put it more simply, anywhere where you're likely to find a gathering of our four-legged friends!
Aside from looking good, the Retriever City™ pet waste station is also super practical, offering an integrated bag dispenser and chute system, all within one astute pet waste unit. And the option of adding clear, eye-catching decals to this station are sure to encourage people to use it for the correct application.
If you're still looking for a slightly more compact dog poop station, which still offers top-level practicality and quality, the Fido™ Pet Waste Station might be just what you're looking for.
Fido, like Retriever City, is well-suited to a wide-range of environments; residential apartment buildings, campgrounds, sidewalks and vet clinics...to name but a few.
Just one of Fido's many great selling points comes with its ability to be fixed to a post, or wall-mounting, as offering a small footprint and neat aesthetic will further allow this dog waste station to be well suited in a range of locations.
And why have style over substance, when you can have both! The self-returning lid and moulded plastic liner of Fido are removable for cleaning and disinfecting, whilst its robust construction will allow this dog poop station to offer an unrivalled long-service life.
Here's what else you can expect from our secure, robust and versatile dog waste stations:
Don't forget to personalize...
Personalization is a great way to encourage people to use your pet waste stations. Clear, simple and eye-catching decals not only encourage people to use your stations for the desired waste stream, but also reassure users that such receptacles are there to be used!
Furthermore, why not add company branding, logos and messages to your pet waste stations – this can act as a great way of additional promotion for your company or local area.
As always, our dedicated team of in-house professionals are here to assist in any way we can, talk to us today for more information!
Sources:

* https://www.statista.com/statistics/198100/dogs-in-the-united-states-since-2000/
** https://animalfair.com/2019/01/17/stink-about/