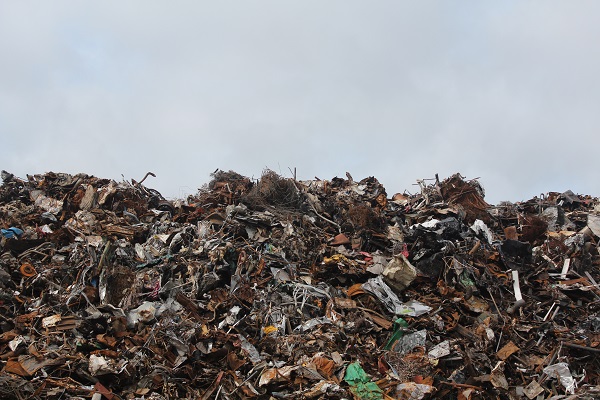 Cross-contamination of waste streams is a common issue that sends potentially recyclable material to landfills.
As landfills are responsible for greenhouse gas emissions, soil and ground contamination, and pollution, minimizing the potential for cross-contamination when recycling is a vital part of the fight against climate change.
So, what are the three steps to follow to reduce cross-contamination when recycling?
Step One - Educate and Raise Awareness
Because recycling infrastructure, treatment processes, and collection services differ by state and municipality, sorting waste correctly can be a tricky concept to grasp.

Yet, with the ability to provide current information, explain recycling processes, motivate and encourage people to recycle, education and awareness can bridge the gap and help lower the possibility of cross-contamination.
Posters and Infographics
Used to visualize the recycling methods, recycling benefits, and any relevant state mandates, posters and infographics are handy devices to educate and inform.
When placed in areas with high traffic, posters and infographics provide clear and informative guidance while removing any confusion surrounding recycling.
Accessible and informative web pages
In much the same way as posters and infographics, accessible and informative web pages can visualize recycling methods, recycling benefits, and relevant state mandates to users.
As 90% of American's have access to the internet, providing informative and educational web pages will help to remove recycling confusion and instill recycling standards.*
Training
Training can substantially lessen the probability of cross-contamination when recycling. Because training provides a hands-on method of education, it allows users to understand recycling processes while creating an appropriate platform for users to highlight any issues.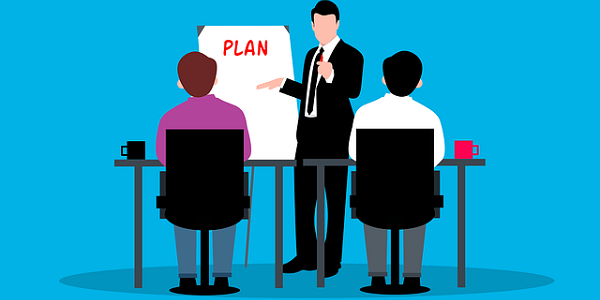 By removing the confusion that often surrounds recycling and establishing a recycling quality standard, training heightens the efficiency of recycling programs.
Discuss Recycling Initiatives with Users
Discussing recycling initiatives with users creates a two-way communication model that can highlight issues, successes, and suggestions for optimization. Communication also ensures users understand local recycling capabilities, methods, and benefits and helps to raise awareness around recycling initiatives.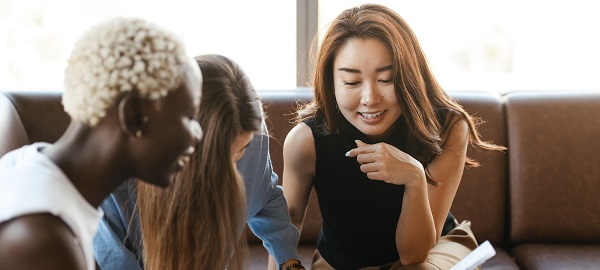 Vary Education Methods
Varying the modes of recycling education on offer will secure a wider audience while fulfilling differing learning preferences. It will also present a rise in recycling success and a lower possibility of cross-contamination.
Step Two - Add Decals, Signage, and Recycling Labels
The addition of decals and signage featuring standardized recycling labels makes a positive difference to recycling rates.
Used to highlight the function of a waste stream while reinforcing public messaging, decals and signage make it easier for users to identify recycling points and, through positive reinforcement, encourage the user to recycle correctly.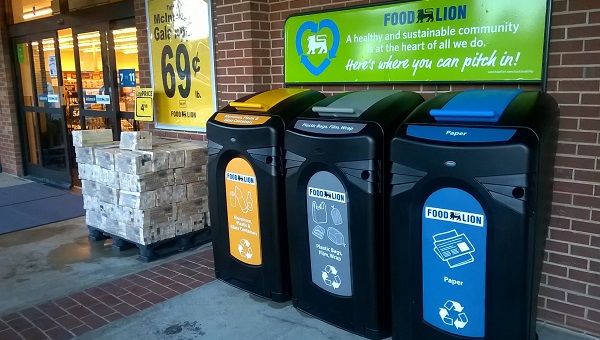 By simplifying the recycling process, clear and instructive decals and signage minimize the potential for cross-contamination and, when personalized to incorporate logos, color schemes, and messages, they can relay company messages and visitor and staff information.
The inclusion of recycling labels for designated waste streams is vital in ensuring a recycling container will receive the correct disposed waste, making for an invaluable ally in improving recycling efforts. Using Recycle Across America's (RAA) standardized labels, a uniform system with clear and appropriate information can be implemented across all recycling bins nationally, reducing cross-contamination significantly, often nearly entirely.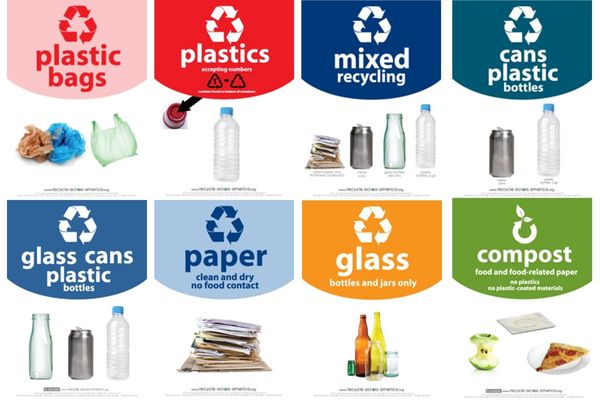 Step Three - Obtain Suitable Recycling Containers
In order to implement a successful recycling initiative with minimal cross-contamination, recycling bins are key. But what are the considerations to make when choosing recycling bins?
Placement
The placement and accessibility of recycling bins and stations are important elements in lowering cross-contamination when recycling.
By grouping recycling bins to create recycling stations, the decision provides users with a solution to all recycling requirements and lessens the tendency to place recyclable materials in the nearest available recycling bin or trash can.
The placement of recycling stations should be within adequate distance of activities that produce recyclable materials and general waste, and, after performing a waste audit to discover the production of recyclable waste, it should provide a stream for all highlighted recyclable materials.
Capacity
The capacity of a recycling bin is an important tool to reduce cross-contamination when recycling and decrease recycling collection fees. But with capacity sizes ranging from 5 to 80 gallons, what are the considerations to apply when choosing a recycling bin?
The answer rests with the placement of the bin, its expected user volume, and its intended use.
For large indoor areas with high traffic, a C-Thru™ 50G recycling container" may be suitable. With a clear body to provide added security in busy venues, the C-Thru 50G range uses distinguishable decals to lower the possibility of cross-contamination and promote the function of the recycling container.
For smaller, indoor establishments with a low-level production of a specific material, the C-Thru 5Q recycling collection tube may be a more practical addition.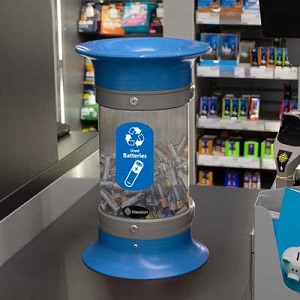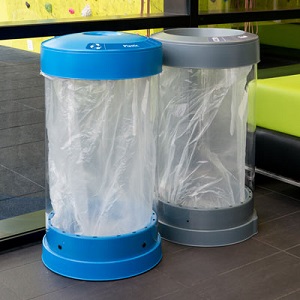 Glasdon Jubilee™ 80G Mixed Recyclable Recycling Bins suit schemes where recyclable materials transit to sorting facilities before treatment or state's where mixed recycling is widely acceptable.*
Obtaining a recycling container with a capacity that matches the waste requirements of the user has many benefits:
It decreases the possibility of overflowing trash.

It encourages the correct disposal of recyclable waste.

It presents the opportunity for decreased costs by lessening the requirement for frequent collections of all waste streams.
A waste audit can also assist with choosing a recycling bin.
By highlighting a company or workplace's waste requirements, a waste audit can identify the production volume of each recyclable material and provide guidance on how often to collect such materials and which capacity bin best fits each stream.
Apertures
Apertures encourage users to correctly dispose of recyclable waste by providing a specially sized opening for each stream.
With larger openings for general waste and food waste, circular apertures for cans and bottles, and rectangular cutouts for paper and cardboard, apertures minimize the possibility of cross-contamination.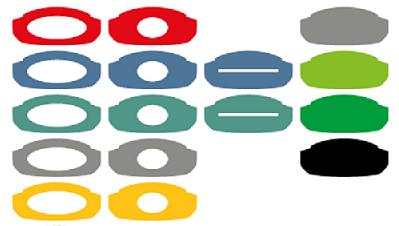 In addition, their varying colors also allow users to differentiate between waste bins and permit easy identification between streams.
For further advice on choosing a recycling bin, read our guide: How do I choose a recycling container?
References
*https://www.statista.com/topics/2237/internet-usage-in-the-united-states/#dossierKeyfigures
*https://www.epa.gov/infrastructure/fact-sheet-epa-bipartisan-infrastructure-law
Wednesday, January 5, 2022