Purchasing the right bins for your recyclable waste can determine how successful a waste management program can be. With such a variety of styles, sizes and colors to choose from, it can be hard to know which is best for your setting, which is why we have put together this handy guide to answer some of the most commonly asked questions.
Scroll through our handy guide below to help you choose the recycling bin that's right for your environment:


FAQ: What capacity do I need?
We offer recycling bins ranging from countertop solutions at just 5 quarts right up to 80-gallon wheelie bin housings which are ideal for external environments.
There are many factors that will determine the ideal capacity for you, including the nature of your business, the intended users, placement of the container and type of waste being disposed of.
For example, in an office environment you may decide to choose a recycling container that saves space and fits below a workstation or sits on the desktop. The Nexus® 8G Recycling Bin or Nexus® 13G Recycling Bin are ideal for indoor workspaces. Alternatively, you may be providing outdoor recycling facilities for public users to easily access. This is where you may require a larger capacity bin or wheelie bin container housing, like the Nexus® city 64G or Glasdon Jubilee™ 80G.
The type of waste is also an important factor in choosing your bin capacity. Believe it or not paper waste can be very heavy and so you may wish to collect it in smaller capacity containers. Batteries are also dense and can become heavy so we offer lightweight battery recycling bins and tubes in smaller capacities from 5 quarts to 30-gallons.
FAQ: Do I Need to Secure My Recycling Bin?
If siting your bin in an outdoor location, we would recommend using ground fixings for added security. We offer a range of different fixings for our range of outdoor bins and have a handy Guide to Fixings for Trash Cans and Recycling Containers, as well as a helpful infographic, to help you select the appropriate fixing for the location of your bin.

Download our free Trash Can and Recycling Container Fixings Diagram Guide, here.
FAQ: How many waste streams do I need?
Our purpose-designed recycling bins and recycling stations are available for the segregation of a wide range of recyclable waste streams including cans & plastic bottles, mixed recyclables, confidential paper, food waste, glass, drinks cartons and e-Waste.
Choosing which waste streams you need to segregate will depend on the intended placement. If you are looking for units for offices and workplaces, it's likely you may have a greater need for paper recycling and mixed recyclables, whereas for cafeterias, containers for food waste, plastic bottles and cans will be more necessary.
To suit the requirements of your recycling program, we offer multi-stream recycling containers and stations with individual compartments and specially molded apertures to allow for the collection of multiple types of waste in one space-saving unit. The Nexus® Transform Recycling Station, for example, is a 40-gallon container that can be purchased as a duo, trio or quadruple compartment model.
Many of our recycling bins also come with kits to connect them together to create one neat and tidy recycling station such as our Nexus® 13G or Nexus® 26G ranges.
If you see the container you need but it's not in the desired waste stream, we will be more than happy to personalize your choice of recycling bin to suit your needs.

FAQ: What shape opening (aperture) do I need?
To encourage users to place the correct waste into the right bin, we offer a range of specially molded apertures for each bin. The shape of the opening (aperture) in the recycling bin's lid or hooded open top is an important factor in preventing the cross-contamination of waste to maintain the quality of the recyclable material. For example, an aluminum can will not fit in the smaller, thinner apertures found on a paper recycling bin.
Examples of our molded apertures and the standard colors we offer on a wide range of Glasdon recycling bins and stations: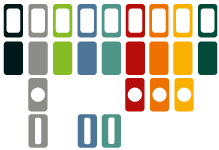 FAQ: Do I need a sign kit?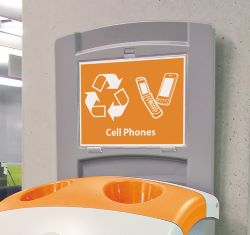 We provide the option to add a sign kit to most of our indoor recycling bins to help create a clearly identifiable recycling point in any location. Fitted to the back of the unit, sign kits provide additional signage at eye level to help promote the recycling message and ensure the correct use and minimize cross-contamination.
All of our sign kits are available with personalization so you can choose to recycle (almost) anything!
FAQ: Can I Create My Own Recycling Bin?
Recycling decals and signs are extremely important components that contribute greatly to recycling efforts. They provide visual cues to encourage individuals to dispose of their waste in the correct container.
As well as offering a wide range of colorful recycling decals that are widely recognized, we also offer the official Recycle Across America (RAA) recycling labels across many of our bins and recycling stations.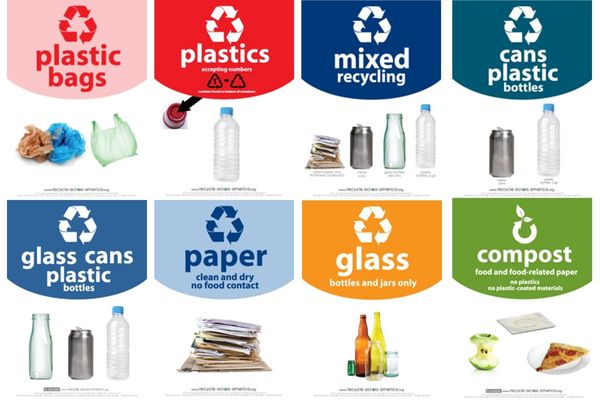 We understand the importance of aesthetics and offer the opportunity to personalize your bin and incorporate your company logo, brand and colors onto the body of the bin too. This can promote the environmentally friendly ethos of your organization as well as foster the bin's ability to fit in with your facility's surroundings. We strive to ensure your container is a perfect fit for your requirements which is why we will supply you with a free of charge illustration of your chosen bin before you place an order.
View some examples of personalization on our products.

FAQ: Do I need a lid for my recycling bin?
All of the recycling bins that we offer for external use are supplied with a hooded cover to offer protection from the rain. For our internal range, many of the bins that are available with an open aperture also have the option of a flip lid.
Flip lids are useful for hiding unsightly waste and ensuring any odors are contained within the bin. They can also help reduce the likelihood of unwanted pests like flies accumulating. So for any waste that you may want to keep out of sight or that may create smells, we would recommend choosing a flip lid. For food waste bins, we will always provide a flip lid as standard to ensure this.
FAQ: Do you collect the recycling containers once they are full?
Our recycling bins come in a range of capacities and waste streams to suit different applications. Unfortunately, although we provide the receptacle to store the material prior to being recycled, we do not currently offer a service for collection.
We would suggest checking your local recycling center which has the facilities and expertise to dispose of the waste safely – we're sure they would be happy to collect the contents for you.
Don't forget - you could be eligible to receive external funding to start up or expand your existing recycling scheme! We've compiled a list of recycling grants providers to get you started.
In the off-chance your question hasn't been answered, simply send us your query
Or alternatively:
Call us toll free 1-855-874-5273
Email us inquiries@glasdon.com
Or use the Live Chat facility on our website
Originally posted 03.17.16
Wednesday, February 2, 2022