Ensuring your water safety equipment is up to standard should always be a top priority, but how do you make sure your products are kept safe, secure and well-protected? Glasdon life jacket boxes and life ring cabinets are a durable, eye-catching, and practical solution to this problem – here's how:
Life Jacket Boxes
Why choose a life jacket box from Glasdon?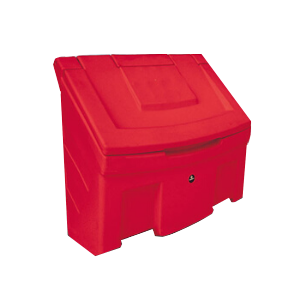 Our products are renowned for their quality, design and reliability – and this is no different when it comes to our life jacket storage boxes.
Available in a slim and compact 42 gallon version, or an extra-large 106 gallon option, both the Slimline™ and Nestor™ life jacket boxes make up part of the Glasdon water safety range.
Teaming eye-catching aesthetics, with long-term durability...
There's no denying that the striking, bright red color of our life jacket storage containers are useful in an emergency, as they help easily locate your vital life-saving equipment in an emergency...but that's not all our containers have to offer.
The Nestor™ 106G Life Jacket Box, for example, has a uniquely designed lid, which can fully rotate, enabling quick and easy access to the valuable life-saving equipment stored inside.
Or, if space is more of a premium at your water-side environment, the Slimline™ 42G Life Jacket Box is a great alternative. The narrow footprint of Slimline life jacket boxes allow them to be conveniently sited on narrow walkways, docks or marinas, whilst still offering a generous 42 gallon holding capacity.

Security, and adding that individual touch...
We appreciate that investing in a life jacket box is a serious responsibility, and the main priority is keeping your life jackets and safety equipment secure and well-protected. To assist on this front, we offer the option of a lock to our life jacket storage containers, providing that extra level of security and peace of mind.
Branding and personalization are also options which are available to both our life ring cabinets and life jacket boxes products, as well as the majority of our entire product range.
Adding a touch of personalization, such as your own company branding, logo and/or messages can help add that individual touch to your product, whilst also acting as a valuable source of additional promotion and recognition for your brand.
The perfect accompaniment to life jacket boxes, comes in the form of Glasdon life ring cabinets. Take a look below for all you need to know...
Guardian™ Life Ring Cabinets
We're an industry leader when it comes to designing and manufacturing high-quality, durable life ring cabinets. Guardian™ is a life ring station which offers versatility, and is well-suited to a host of locations, such as; beaches, lakes, harbors, docks, marinas and swimming pools.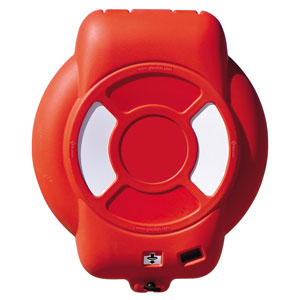 What sets Guardian ahead of the rest?
Manufactured from a fully waterproof, corrosion-resistant Durapol™ material, the Guardian Life Ring Cabinet has been rigorously tested to combine optimum performance, with minimal maintenance.
The robust durability of this ring buoy cabinet allows the unit to withstand the most extreme of temperatures, protecting the vital life-saving equipment inside.
Furthermore, in order to help save valuable seconds in an emergency, Glasdon life ring cabinets feature a Ropemaster™ quick release system, which allow your safely stored equipment to be deployed in one swift movement, requiring minimal effort.
Pick the options which best suit your needs...
We appreciate that needs vary, and what may be the perfect fit for one location, may not be well-suited elsewhere.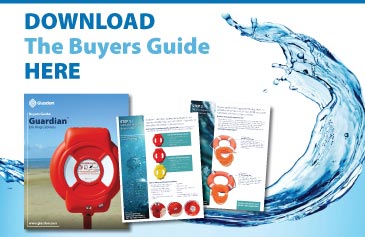 Therefore, our life ring cabinets are available in different size and fixing options, allowing you to create a product which is the perfect fit for your environment.
Guardian life ring cabinets are available in either a 24" or 30" model, if you aren't sure which life ring would best suit your needs, why not take a look at our handy guide: which sized life ring do I need?
We also offer a variety of fixing options, including; wall, rail and pole mounting. Speak to one of industry experts for more advice on which options may best suit your needs, we have a LiveChat feature available at the bottom of this page!
If you'd like any more information on any of the products above, or any of our wider product range, why not: Email us inquiries@glasdon.com | Call us Toll Free on 1-855-874-5273 | LiveChat with us on our website?
Thursday, November 28, 2019