Life rings (or ring buoys) are available in two standard sizes – a 24" or 30" diameter life ring. These life rings are suitable for use in any location where large areas of water may pose a danger such as beaches, lakesides, swimming pools, harbors and water treatment plants. At Glasdon, we supply US Coast Guard type IV approved life rings to meet your water safety equipment needs.
One question we are often asked is "What size life ring do I need?"
To help you answer this question and choose the most suitable life ring for your location, we explored the advantages and considerations of both sizes.
There are three factors to consider when choosing a life ring:
How far and accurately can the ring buoy be thrown?
How easy is it to carry for long distances before deployment, if necessary?
How much buoyancy does the life ring offer when in use?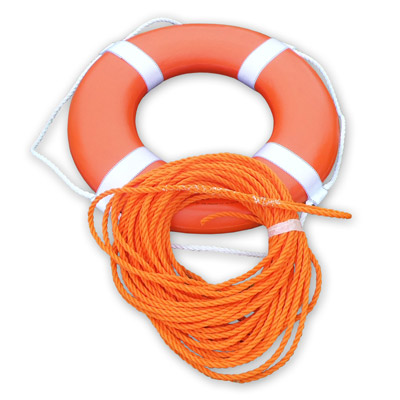 24" Diameter Life Ring
The 24" Life Ring weighs 3.9 lbs. This lightweight design makes it much easier to carry for further distances than the 30" life ring. Although we do recommend siting life rings at regular intervals near bodies of water to minimize response time.
Thanks to its small and light structure, the 24" life ring can cover a large throwing distance. This ease of deployment means it is ideally suited for rivers, lakes and shelving beaches where the lifebuoy needs to be thrown.
Although it may be small, the 24" life ring has a minimum buoyant force of 28lbs, providing enough buoyancy to support a single rescuee in the water for an appropriate amount of time.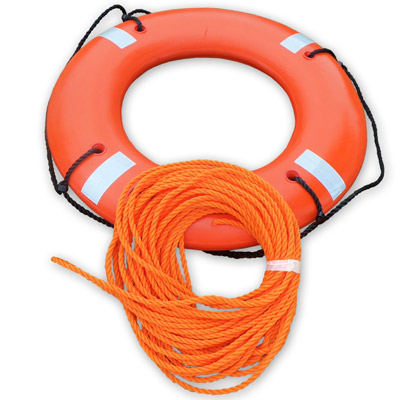 30" Diameter Life Ring
The larger sized 30" life ring has a more limited throwing range due to its size and weight of 7.2lbs. As a result, this should ideally be used in areas where there is a vertical drop to the water such as piers, harbors or from onboard boats.
The size of the 30" life ring provides the additional advantage of improved buoyancy (minimum buoyant force of 32lbs) and should be able to support multiple rescuees at one time. Many customers prefer to order the 30" life ring based on its higher buoyancy force.
Other Useful Features
Both the 24" and 30" life rings are brightly colored and feature retro-reflective bands to increase the lifebuoy's visibility, aiding recovery during low light or night time conditions. The international orange color and retro-reflective bands meet SOLAS 74/83 regulations, ensuring they comply with safety standards for water safety equipment.
Constructed with a high density, UV stabilized polyethylene shell, the life rings are hard-wearing, low maintenance and long lasting. The life rings contain 100% foam filling so they will not absorb water if torn or punctured. US Coast Guard type IV approved, our 24" and 30" life rings offer a long-service life, reducing the need for frequent or costly replacement.
Our life rings are also supplied with a 100' rope. Made from 3/8" UV protected polypropylene, the throw line meets SOLAS standards and is both strong and easy to grip to help assist with rescue.

Storing and Protecting Life Rings
We can also provide robust life ring cabinets for the safe storage of vital water safety equipment. Guardian™ Life Ring Cabinets are manufactured from corrosion resistant Durapol™, which makes the life ring cabinets both weather and vandal resistant. Similar to the life rings, Guardian Life Ring Cabinets are available in two sizes to accommodate either the 24" or 30" life ring.
The Guardian Life Ring Cabinets have many innovative features to assist with water rescue, including Ropemaster™ - a quick release system that can save valuable seconds during rescue attempts. The usage indicator on the housing also lets you see if the life ring cabinet has been opened, allowing for quick and easy inspection.
A variety of fixing options are available for the Guardian life ring cabinet, meaning it can be placed in the most suitable location on your site.
The life ring cabinets can also be installed at intervals of 164 feet to meet ILO safety standards or 200 feet intervals to meet OSHA regulations.
Alternatively, download our Buyers Guide for a step-by-step overview of Guardian Life Ring Cabinets.